About Star Chef 2
Star Chef 2 - Cook, Serve, and Build Your Master Chef Career
Live the #ChefLife You've Always Dreamed
Make Top-Knotch International Cuisines in Star Chef 2
Star Chef 2 is a free-to-play cooking simulation game developed and published by one of India's most popular gaming studios, 99games.
Star Chef 2 is the sequel to their hit cooking and restaurant management simulator, Star Chef, and is available for play on Windows PC and Mac devices. You can also download it to your Apple or Android smartphone through the Apple Store or Google Play.
Since Star Chef 2 launched on August 9, 2021, the game has already seen thousands of players. They all have the same goal in mind, to become the ultimate star chef.
To become a star chef, you have to create recipes, serve customers, and build a team that you can trust. You can eventually even compete with others in mini PvP tournaments. Use the review below to help you better understand why Star Chef 2 should be the next game you download.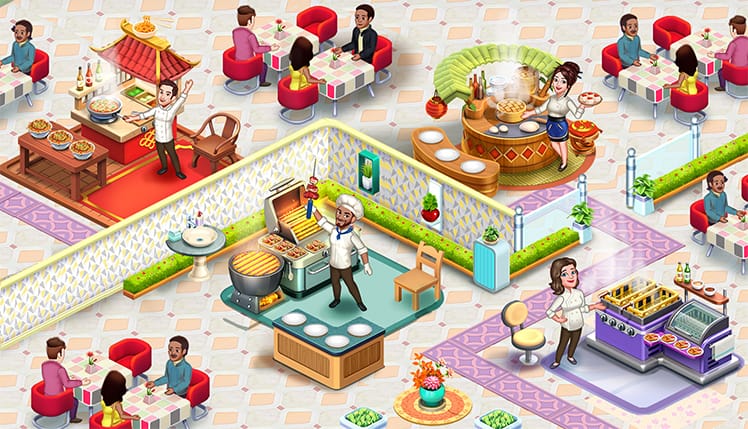 Become the Star Chef You Always Wanted to Be
Star Chef 2 should receive a top rating for its concept. You first enter the game as an entry-level chef. You have to go through over 80 guests to eventually become a master, growing your skills along the way. These skills include learning over 200 specialty recipes for internationally acclaimed dishes. As your restaurant grows, you will hire chefs from all over the world to help you complete tasks for your quests.
When making food in this game, you will gather produce from the backyard of the restaurant. You may have to cook on the stovetop, grill, or bake to finalize the dish. Occasionally, you may even encounter a random celebrity at your restaurant or get an invite to a party of some form.
We have seen similar concepts before; however, Star Chef 2 does it well.
Concept Rating: 4.5/5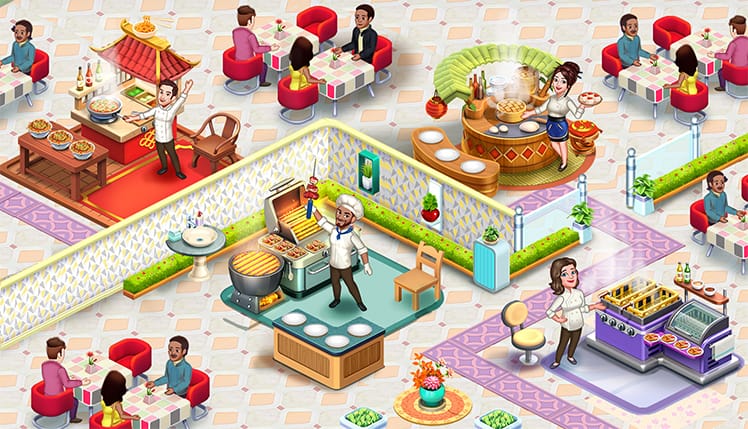 The Birds-Eye-View and Upbeat Soundtrack
The graphics in Star Chef 2 are average; however, they do offer a different perspective. When managing your restaurant, you will have a birds-eye view of the kitchen and the dining room.
There are reports from players that characters in the game sometimes glitch. However, if you understand that these issues are pretty typical for new indie releases of this kind, this won't be a problem. Plus, the developers at 99games are performing regular updates to address these sorts of issues.
Now, the audio. The sound effects are also pretty average in Star Chef 2. You will encounter the typical upbeat music that is in many other cooking or life simulation games. There is no actual dialogue in the game, so feel free to turn the music off at any time.
Graphics & Audio Rating: 3.5/5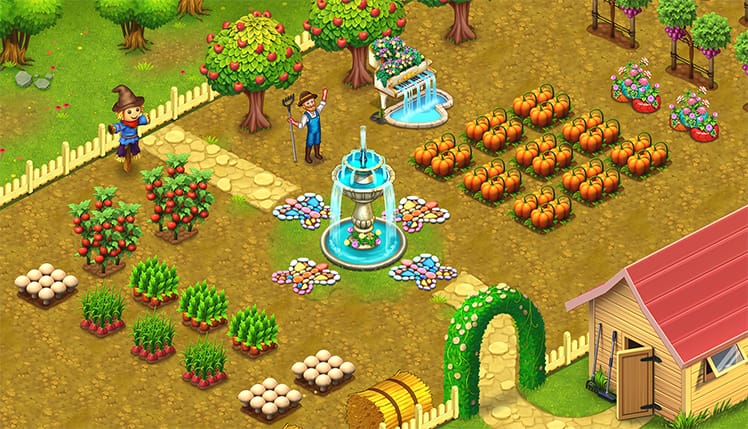 Make your Recipes and Upgrade with In-App Purchases
The only reason that Star Chef 2 does not recipe a perfect score for gameplay is that it is very similar to some of the other top cooking simulation games, such as Cooking Simulator. Something unique Star Chef 2 offers, however, is that you have to make every recipe from scratch. As mentioned, you can even grow and gather your fruits and vegetables from the garden in the backyard.
To move your character, you will have to click or tap the screen on your mobile device. The tutorial will show you how to find your orders, cook specific recipes, or serve your customers.
There are a variety of in-app purchases that you can make in the game too. You can buy coins and cash packs that help you purchase decorations and other necessities for your restaurant.
Gameplay Rating: 4/5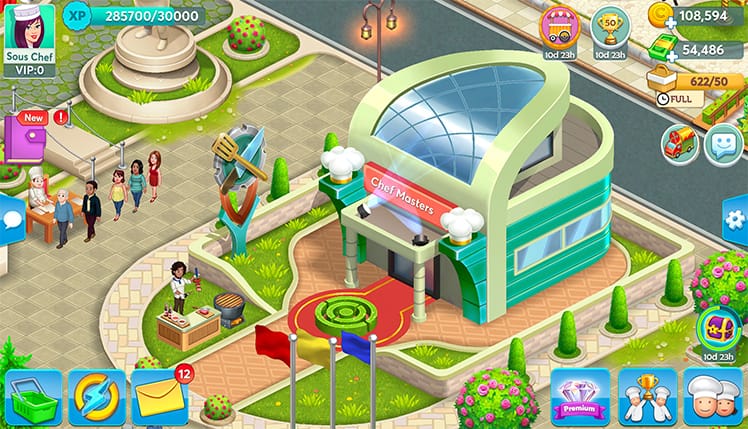 Download Star Chef 2 Today!
Overall, Star Chef 2 is a solid free-to-play cooking simulation game. With over 80 quests and 200 recipes, you can keep coming back to the game and never get bored.
The gameplay is easy to learn, and the storyline is fun and engaging. With that said, if you are looking for a solid simulation game where you begin as a low-level chef, and by the end, you become the five-star master you'd always hoped to be, Star Chef 2 is worth a try.
TL;DR
Star Chef 2 is a fun, free-to-play cooking and restaurant management sim that gives you a birds-eye perspective of what it's like to become the master chef you always dreamed of being.