About Cooking Simulator
Developed by Big Cheese Studio, Cooking Simulator is one of the best cooking video games today. Available for Android, iOS, Xbox One, Nintendo Switch, PlayStation 4, and Windows, Cooking Simulator allows players to step into the role of a cook in a realistic kitchen. Furthermore, the video game applies realistic physics to several different ingredients that players can use in any way they please. In Career Mode, players prepare various dishes to improve their restaurant. Otherwise, players can cook dishes simply for fun in the free-form Sandbox Mode. For added challenge and variety, there are several DLCs and expansions available, including Cooking Simulator VR.
Cooking Simulator Features
First, the immense variety of ingredients and recipes and the various ways players use them bolster the gameplay of Cooking Simulator. Players can prepare a massive selection of dishes, as the game contains over 60 recipes and over 120 different ingredients. These elements run the gamut -- from everyday ingredients like tomatoes to rare items.
Next, Cooking Simulator's extensive use of physics makes the actual act of cooking far more interesting. The game strives to correctly simulate the effects of real-life physics on all objects, including the food items the player must prepare and the tools used. Advanced physics simulation allows players to engage with recipes in whatever manner they see fit. As a result, players can cut the food in any way they like. Further, overcooked or undercooked food adds to the gameplay challenges and affects texture and taste. Because of advanced simulation, players can even run into serious issues, such as fires in the kitchen. If this occurs, players have to put out the fire with an extinguisher. The physics simulation in Cooking Simulator is essential to the game's appeal. It allows for more involved and dynamic gameplay than would otherwise be possible.
Also, the accurate cooking simulation game allows players to engage in several different ways. Cooking Simulator offers a Career Mode for a more structured take on its cooking gameplay. In Career Mode, players start as obscure cooks at a restaurant. Cooks gradually accumulate fame and skill by cooking various dishes and serving them to customers. Alternatively, players who aren't interested in this structured gameplay can play the game's Sandbox Mode. This gameplay mode gives players access to a full kitchen, as many ingredients as they need, and the ability to cook whatever they want. Plus, the free-form gameplay experience gives Cooking Simulator a massive degree of replayability.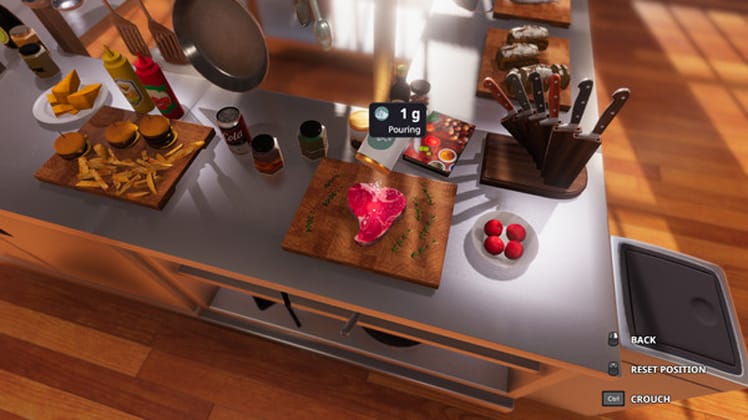 In Summary
Cooking Simulator uses advanced physics simulation combined with various tools and ingredients. The game offers one of the most interesting virtual approximations of cooking around and is hands-down one of the best cooking video games on the market. Big Cheese Studio's flagship video game is a must-play for any gamers and cooking enthusiasts!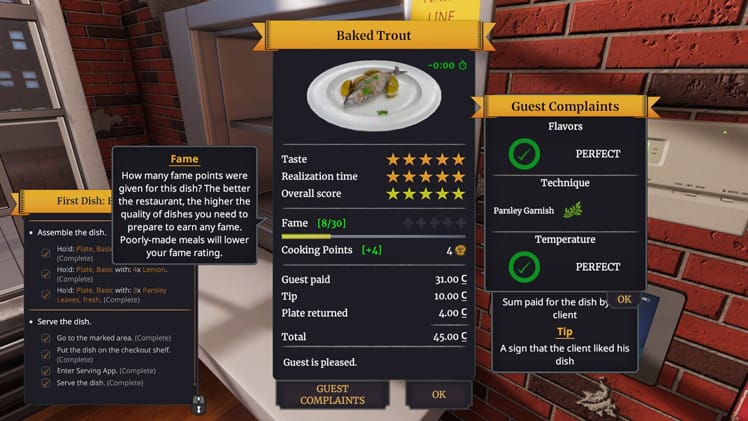 ---
Review: Cooking Simulator - Time Fries When You Play This Game!
An Immersive Journey to Become a Master Chef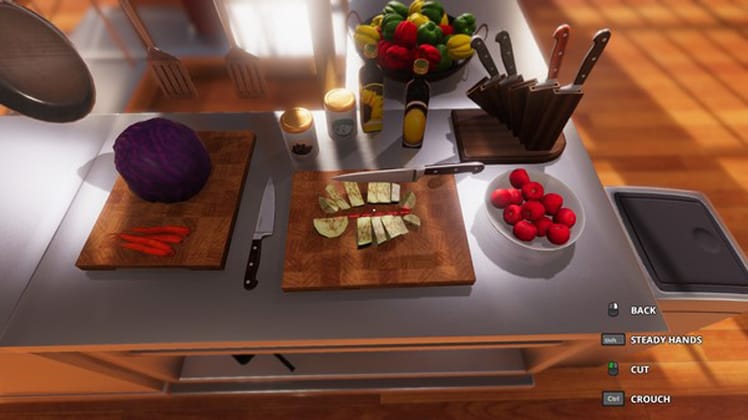 Time To Get in the Kitchen
Cooking in real life is a fun, rewarding experience, but it also requires a lot of prep, effort, and cleanup. Plus, if you make a mistake, it can feel like you put in all that work for nothing. However, in Cooking Simulator, you can have all the enjoyment of cooking without any of the hassles.
Developed by Big Cheese Studio and published by PlayWay S.A., Cooking Simulator is available for Windows, Android, iOS, Xbox One, Nintendo Switch, and PlayStation 4. The niche simulation game uses a physics engine, which provides players with the most realistic cooking experience imaginable. Who needs a real kitchen, anyway?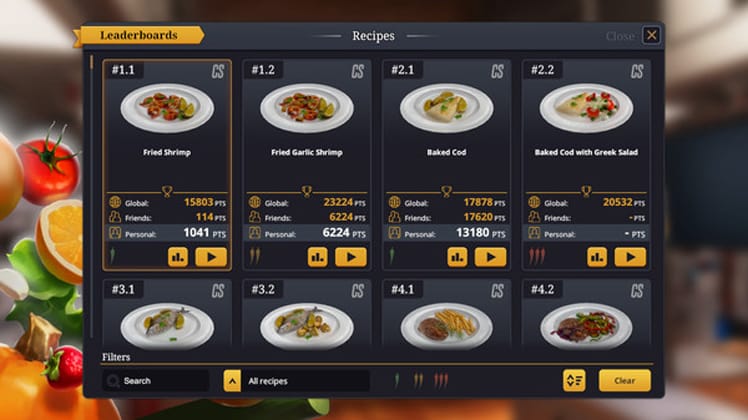 Realistic Cooking Simulation
Cooking Simulator takes place in a detailed, fully functional virtual kitchen. Role-playing as an aspiring chef, you can take on a variety of game modes, but regardless of which one you choose, the game is all about putting that kitchen to good use and making lots of delicious food.
In Career Mode, you take on the role of an aspiring chef working toward the goal of becoming a culinary master. The game is in the style of a first-person simulation, and if you let yourself become immersed, you might forget the fresh veggies you chop and delicious sauces you stir are only virtual.
Concept Rating: 4/5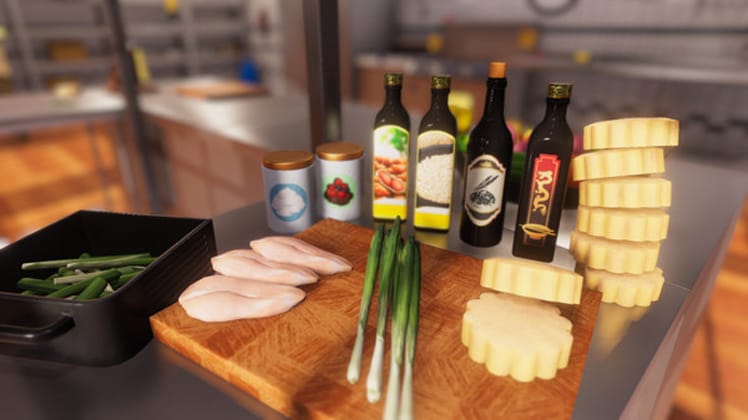 Realistic and Intricately Detailed Graphics
Anyone playing Cooking Simulator will be impressed with the realistic appearance of the virtual kitchen. The kitchen is not only sleek and polished but also has tons of highly detailed utensils and surfaces.
The in-game food looks fantastic as well. It is so colourful and realistic that you will probably want to be careful about playing Cooking Simulator on an empty stomach. Just remember, this is only a simulation game!
As for the audio, the primary sounds are the various kitchen sound effects triggered by different cooking tasks. These noises come through clear and crisp, and if you want to enjoy a bit of music while you cook, there are a handful of in-game radio stations. Just make sure to keep the tunes at a reasonable volume; after all, you will need to be able to hear the timer going off when your dish is ready!
Graphics & Audio Rating: 4/5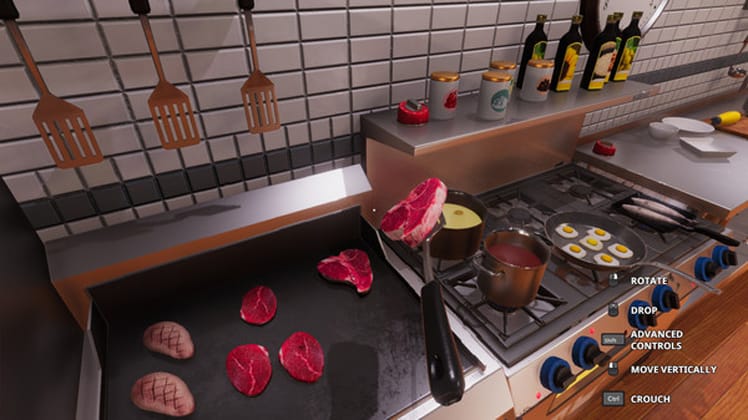 Numerous Ingredients and Recipes
Whatever your favourite dishes may be, there is an excellent chance you will get to prepare a few of them in Cooking Simulator. With more than 80 recipes and over 140 different ingredients, it takes countless hours of playtime before the experience starts to feel even remotely repetitive. In your virtual kitchen, you will always have plenty of meat and fish, fruits and veggies, dairy products, and much more at your disposal.
Unlock and master over 80 recipes or use dozens of life-like ingredients to prepare all your favourite dishes.
The kitchen also provides you with various kitchen utensils and appliances. As you prepare several gourmet dishes, you can use items such as an oven, gas stand, pots, pans, knives, spatulas, blenders, and many other tools. With all these cooking instruments, Cooking Simulator allows players to prepare food using many different methods and styles.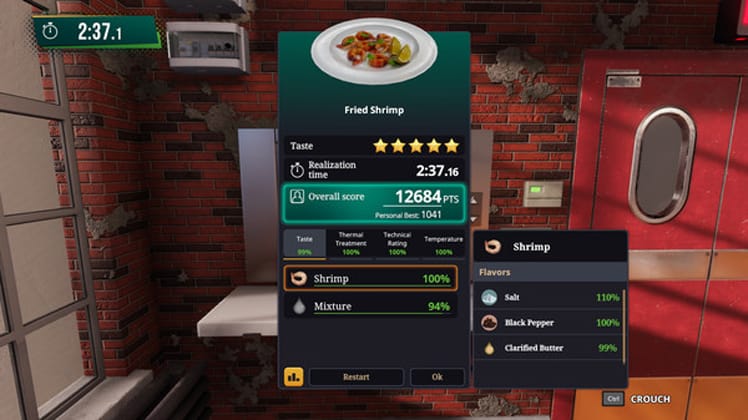 Cooking With Precision
One of the first things you will notice about Cooking Simulator is that it can be pretty challenging. Unlike many other cooking games, it requires a fair bit of precision to have your recipes turn out the way you want them. For example, if you are adding seasoning to a pot or slicing up carrots, you have complete control over the task, and one little slip-up could be all it takes to mess up the dish.
All ingredients respond to your actions by changing temperature, appearance, and taste. Every time you are slicing potatoes, flipping steaks, or boiling a soup, a bit of real-life physics is applied.
The difficulty and focus required are the best reasons Cooking Simulator feels so realistic. Believe it or not, there's a correlation between being a skilled chef in real life and succeeding in the game. And in truth, spending time playing Cooking Simulator may genuinely help you improve your real-life cooking ability.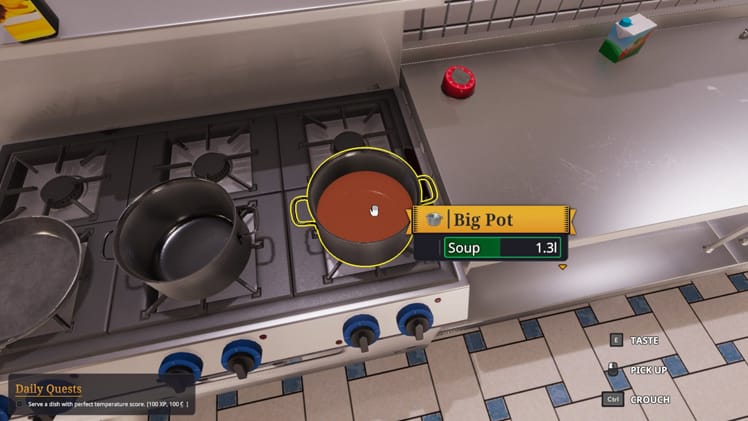 Building Your Career as a Chef
The primary game mode of Cooking Simulator is Career Mode, in which the player must try to work their way up from a nobody to a successful master chef. To achieve fame for yourself and your restaurant, you'll complete various tasks to keep things running smoothly, work hard to meet customer demands, and gradually improve your cooking skills.
In Career Mode, there are a few RPG elements in the gameplay. For one, you'll start with only a handful of more basic recipes in your arsenal, and as you progress, you'll unlock and learn to prepare more complex dishes. You'll also acquire new skills and unlock various perks, which will make it easier for you to find success in the kitchen and advance your career.
Some of the perks you can buy with your in-game currency are very handy. For example, you might unlock one that allows you to sprint around the kitchen, making it easier to coordinate your dishes and meet deadlines. Or, you might purchase a perk that lets you pick food up while it's still hot; after all, who has the time to wait for it to cool down?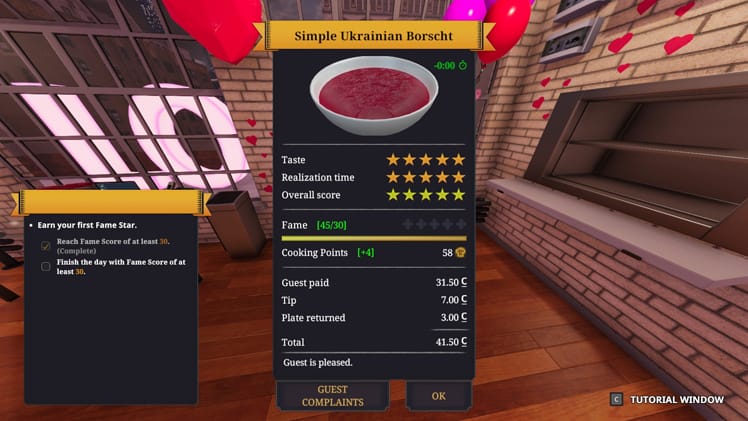 Improvisational Cooking
Another thing that helps prevent you from ever getting bored with Cooking Simulator is the option to improvise with your cooking. While the recipes for each dish you prepare are available, you're in no way obligated to follow them.
If you feel that the chicken you're cooking could benefit from a little extra spice or the sauce you're mixing should be a bit sweeter, you're welcome to go for it. If you're lucky, the customer you're serving might be impressed, helping to take your chef career an extra step closer to massive success.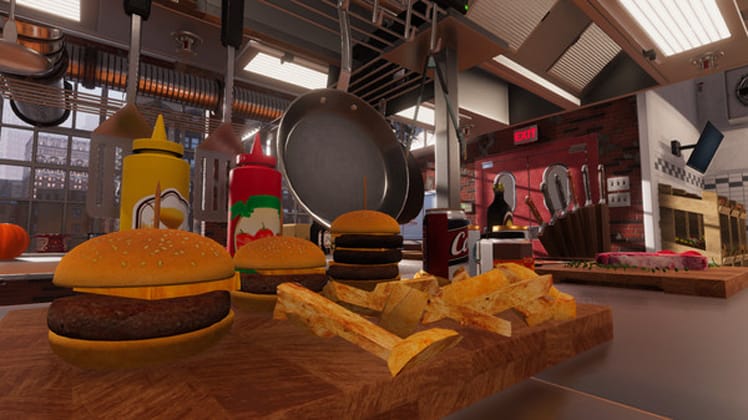 Unleash Your Creativity in Sandbox Mode
For anyone who wants even more freedom in the kitchen, there's always the option to take a break from Career Mode and hop over to Cooking Simulator's Sandbox Mode instead. In this open-ended game mode, you're free to do whatever you like in your virtual kitchen; no manager giving you tasks to complete and no customers waiting on their orders.
In Sandbox Mode, you can cook whatever you want, whenever you want, but there's also more to do than cook. If you feel like getting silly, you can start throwing knives around the kitchen, set up your cutting boards like dominoes, or even set the kitchen on fire. There are no consequences, so why not get crazy with it?
Gameplay Rating: 4/5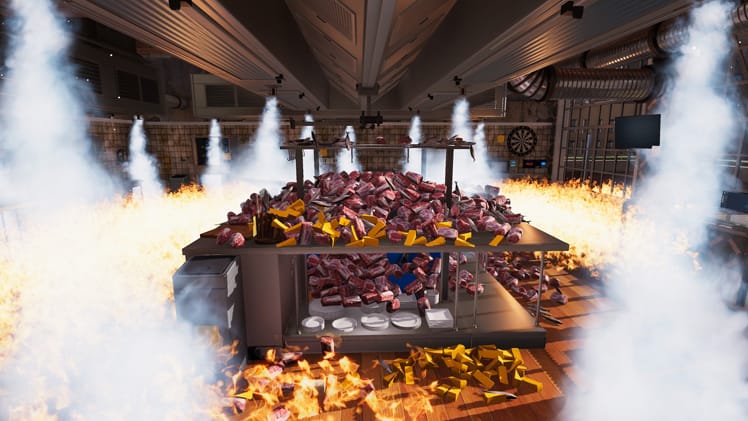 Getting Your Hands on Cooking Simulator
The full version of Cooking Simulator launched for Windows on June 6, 2019. Over the following two years, the popular game would release for Nintendo Switch, Xbox One, PlayStation 4, Android, and iOS.
Cooking Simulator costs $19.99 to purchase on most platforms, although there are frequent promotions offering heavily discounted prices for the game. If you can get it on sale, that's fantastic, but even without the promotional price, it's a pretty good deal. And if you're passionate about cooking or looking to improve your skills in the kitchen, the value you'll get from it will easily exceed the price.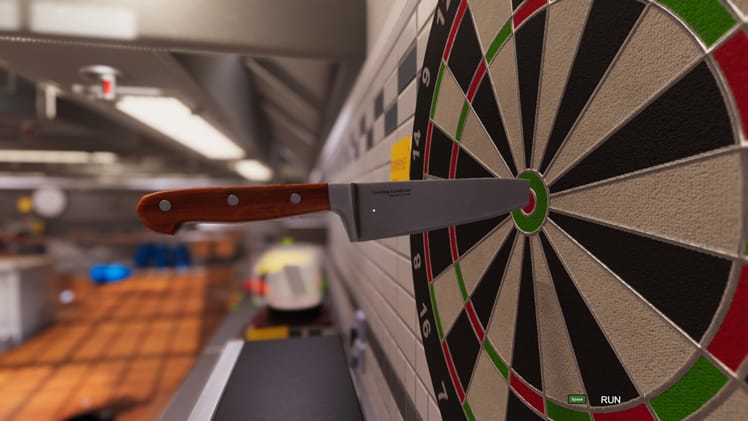 The Tasty Downloadable Extras
If you want to get even more out of their Cooking Simulator experience, you can find several exciting DLCs and expansions. Most of these downloadable extras are available for Windows only and are usually on sale or come in a complete bundle.
Cooking Simulator - Cooking With Food Network
The Cooking With Food Network DLC costs $6.99 and features 15 new ingredients, 30 new recipes, and a new TV studio kitchen setup. There's also a new contest mode included, in which you must compete against the clock in an intense cooking challenge.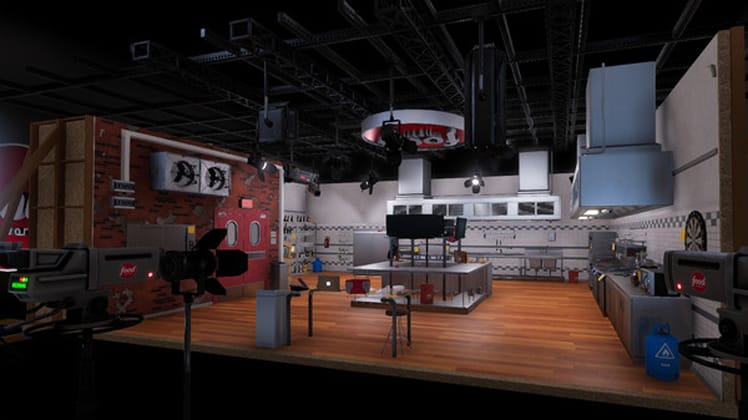 Cooking Simulator - Cakes and Cookies
The Cakes and Cookies DLC is a downloadable add-on about baking, which you can snag for $11.99. The expansion offers players a brand-new bakery setup, new baking mechanics, and a variety of new recipes, ingredients, and cooking utensils.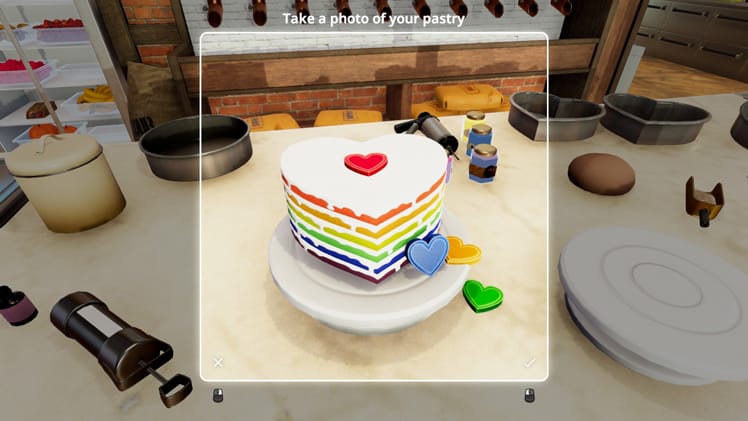 Cooking Simulator - Chaos Tool FREE DLC
If you're looking for free downloadable content, you can grab the Chaos Tool FREE DLC. It is the perfect expansion for anyone who wants to go crazy in the kitchen. The free add-on allows players to shoot off firecrackers, change the gravity of different objects, alter the scale of kitchen items, and sew chaos in various other ways.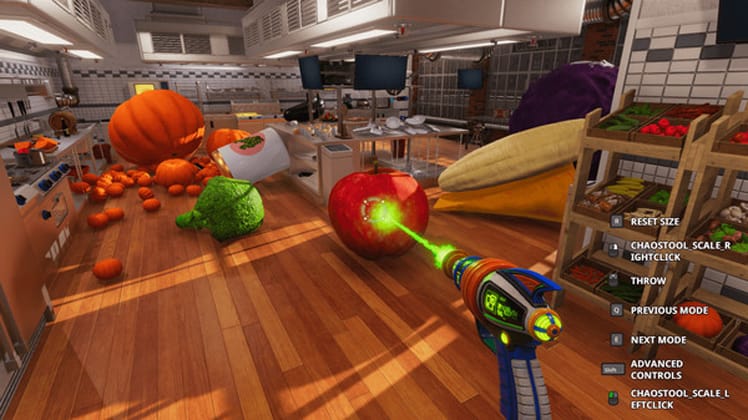 Cooking Simulator - Pizza
Available for Windows, PlayStation, and Xbox, the Pizza DLC is a bargain add-on for any pizza lover at $11.99. In addition to several delicious pizza recipes, this expansion features a brand-new Italian pizzeria, a new career mode and quest system, and even a brick oven to bake your pies.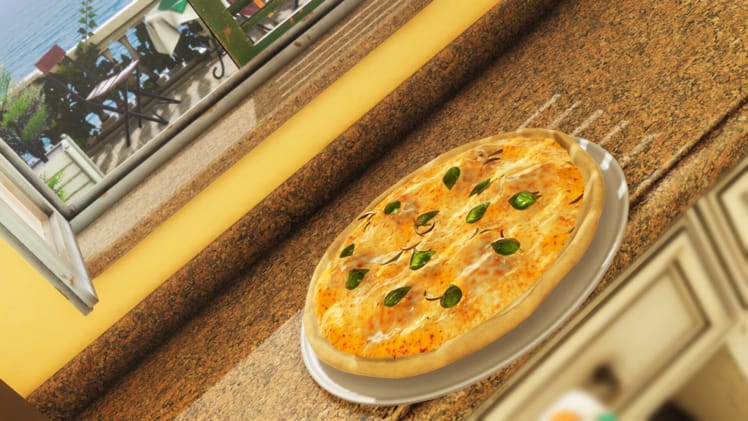 Cooking Simulator - Shelter
The Shelter DLC is also available for $11.99 and puts a unique spin on the game. The expansion takes you to an underground shelter to cook various post-apocalyptic recipes. You can hunt for mutant meat, grow glowing mushrooms, and take on an immersive new career mode; who's worried about the end of the world when there's cooking to do?
Cooking Simulator VR
Cooking Simulator VR is like the original game with incredible immersion capabilities, which only a quality virtual reality headset can achieve. To enjoy the most realistic cooking experience imaginable, you can snag Cooking Simulator VR for $24.99.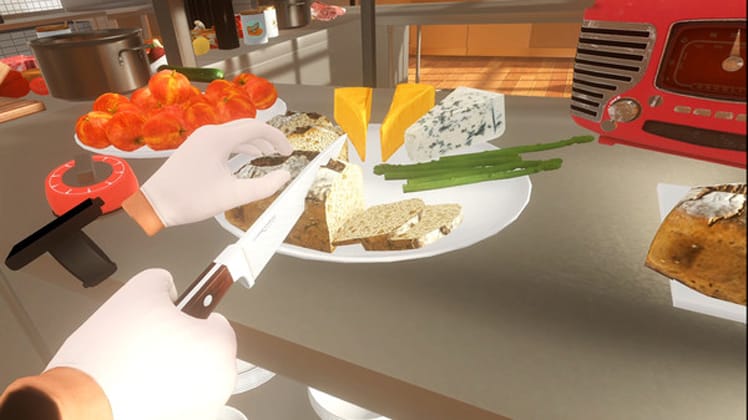 A Comprehensive Virtual Cooking Experience
Cooking Simulator offers everything you could hope for in a cooking video game. Not only is it realistic, challenging, and rewarding, but it also gives players complete freedom in the kitchen and provides a superb selection of recipes and ingredients. The fact that it may help turn you into a better real-life chef is simply icing on the cake (no pun intended).
For anyone willing to splurge on any of the DLCs, the Cooking Simulator experience will offer countless hours of culinary enjoyment. Since there are so many different ingredients, recipes, and kitchen utensils, the game's replayability is off the charts!
Replay Value Rating: 5/5
Perfectly Prepared
Great selection of ingredients and recipes
Beautifully detailed virtual kitchen
Very realistic cooking
Sandbox mode allows for a silly, fun-filled experience
Burnt or Undercooked
A bit too punishing at times
Game physics are hit or miss
Tendency to get stressful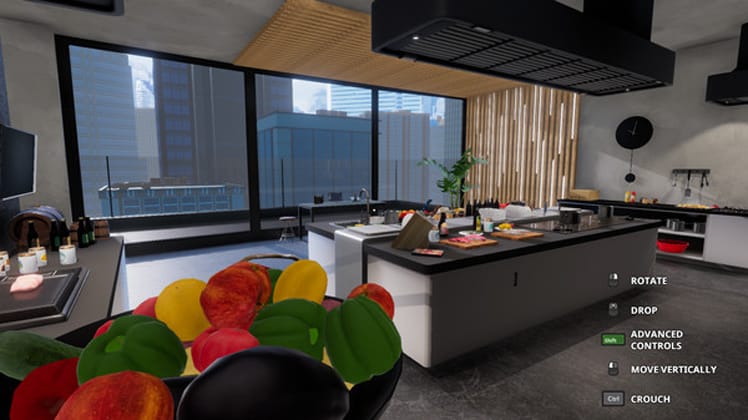 TL;DR
Cooking Simulator offers players an immersive, realistic culinary experience with the potential for creativity and chaos.