About Gacha Club
Gacha Club - A World of Sparkles
Dress up, fight battles, and play with friends.
A Welcoming Club
There are plenty of online communities, but few are as adorable as Lunime's sequel to their hit game Gacha Life. Gacha Club is available on multiple platforms (Android, iOS, and PC). The anime-style game combines fashion, role-playing, and mini-games into one hub that makes it easy and fun to hang out. It's packed full of content, some of which is a little gimmicky, but some of which has lots of potential for hours of fun!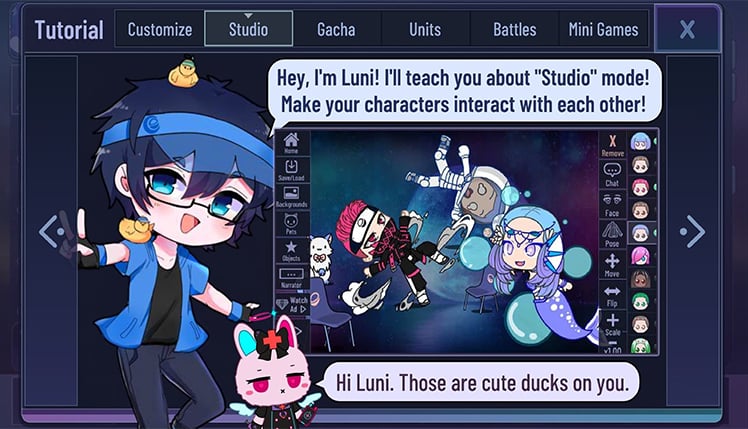 Concept: A Little Bit of Everything
Gacha Club wants to be the popular kid at the party, so it takes several types of games and combines them. It aims to create a community that fosters creativity among friends. Create your very own anime characters and dress them up with thousands of unique items. Then, show your creativity off to the world in the studio.
If that's not enough, try out the RPG-style combat system. Unlock powerful units for your continuing journey or a plethora of unique objects for your characters. The game delivers its 3/5 concept of blending genres in an actively adorable package.
Concept Rating: 3/5
It's All About the Chibis
Gacha Club, hands down, is known for its art. It's invaded everywhere on the internet, from YouTube to Tumbler. YouTubers make mini-movies using Gacha's trademark cuteness, and Gacha Club makes that even easier with its endless and incredibly polished character creation system. The adorable chibi characters and countless outfits keep it easy to express yourself.
Enjoy an entirely original soundtrack along with the devilishly cute art.
Enjoy an entirely original soundtrack along with the devilishly cute art. It follows along with the overall concept of Gacha Club. It'll keep you bopping along with its electronica tunes and upbeat techno vibes.
This blend of peppy music and customizable chibi art is perfect for the Gacha scene, earning a 5/5 for its expansive creative choices and its original soundtrack.
Graphics & Audio Rating: 5/5

Simplistic Gameplay
If you're looking for a great tool to get into chibi creation or want a streamlined introduction to turn-based combat, Gacha Club is a solid, 4/5 choice.
There are many things to do in this game, so we'll focus on the broad strokes. The "story mode" consists of four different tales, where you can unlock up to 160 unique characters. It's a classic, RPG-Esque battle system. However, there's a real simplicity that makes this lackluster. There isn't much interactivity, except for one skill that each of your fighters has.
The mini-games go hand-in-hand with chibi creation.
The meat and potatoes of Gacha Club is undoubtedly its creative power and its community. People use chibi designer to make amazing music videos, short movies, and other fantastic creations. The mini-games go hand-in-hand with chibi creation. Playing online with the community earns you special and neat items with which to customize your chibis.
Gameplay Rating: 4/5
A Place for Novice and Casual Gachas
Gacha Club won't win any awards for its complexity. However, it's helped spawn a massive explosion of creativity across the internet with its chibi creation system. It's a kind of game that encourages customization. Every facet of the game expands your wardrobe or collection. If chibi collect-a-thon sounds like your kind of game, this one might be just for you!
Replayability: 4/5
TL;DR
Gacha Club is the all-in-one community where you can dress up, play mini-games, and experience four different stories in old-school turn-based fighting-- all with friends!