About Emily Is Away
Emily Is Away - Relive the '90s Net
Away Messages Haven't Hit So Hard Since '02!
Throwback to the AIM Era
Stories of the early days of the internet are chock-full of chatrooms and online drama, with a ton of it happening on the infamous AOL Instant Messenger. Get a taste of angsty teenagehood from the late '90s/early '00s in Emily Is Away, a short text-based story told in five chapters.

Chronicling Life on the Early Web
Emily Is Away features the classic AIM look. It became so quintessentially iconic that even a generation later, it's recognizable. The game centers around an online relationship you have with a fellow high school classmate on AIM.
Emily Is Away features the classic AIM look.
Chat with Emily and learn more about her. Help her with relationships while managing your own character's developing feelings toward Emily. The visual novel format progresses across five years of your life, from senior year of high school to senior year of college.
It's a thoughtful dose of nostalgia for anyone eager to relive the days of AIM. Additionally, the concept itself is clever and engaging, earning a 4/5.
Concept Rating: 4/5

Keep the Classics Coming
It's the sounds you thought you'd never hear! Like, ever again. Emily Is Away features those classic Windows chimes, like the boot-up sounds. Furthermore, AIM's sounds are all recreated with accuracy that might creep into your dreams.
Emily Is Away features those classic Windows chimes, like the boot-up sounds.
The graphics are about the same. The early 2000s PC screen exudes through every nook and cranny of Emily Is Away. You'll feel like you were transported back to the turn of the century by logging in with your username on the recreated AIM screen. Everything has been built with this in mind, from the chatbox customizations with different text and background colors. There are even unique profile pictures that you can select, like Lord of the Rings and Blink 182.
All of these aesthetic choices are what make the game a true blast from the past. It's a perfect recreation of an era many gamers grew up in, coming to life on the screen. There weren't a lot of advanced graphics when AIM was king. For these reasons, the game holds solid at 4/5. Emily Is Away shows how a brilliant game can get by on minimalist graphics and audio.
Graphics & Audio Rating: 4/5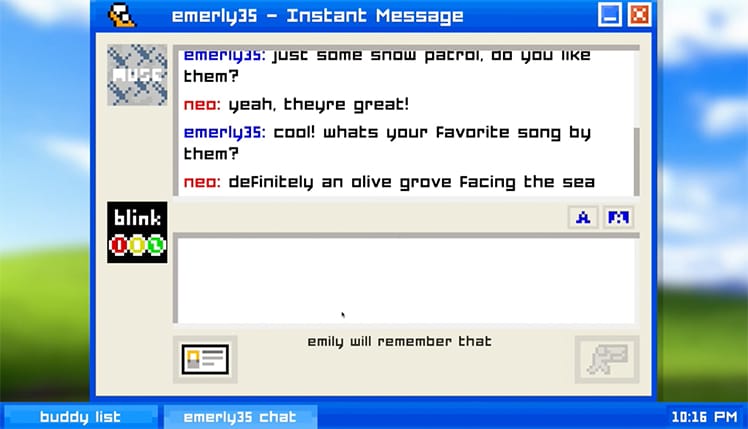 High School and College Life
Log into your online chat program. There you'll see what all of your friends are doing or saying. You can customize your profile by choosing your text color, background, profile pic, and even your bio. Click on your friends to see their bios and profile pics, too.
In the early 2000s, flirting on AIM was the best way to get in with your crush.
Emily is one of your friends as well. She's kind of actually your crush. In the early 2000s, flirting on AIM was the best way to get in with your secret crush. Chat with Emily about various topics, including your real-life time together and upcoming events.
The story progresses over five years. When you first start chatting with Emily, you've both seniors in high school. Head off to college, and your relationship with Emily changes, though. Things you say and do cause events to happen offline. Where will you and Emily leave off at the end of your five-year journey through college and self-discovery?
The game pulls at your heartstrings. It's a tale of growing up, one that everyone can certainly relate to in some way or another. Growing apart from friends and becoming a different person is a scary but necessary part of growing up. Emily Is Away earns a 4/5 for evoking those emotions and reminding us why we left AIM in the first place.
Gameplay Rating: 4/5

Worth a Play
Anyone with a love of visual novels and fond nostalgia for the early days of internet chatting should dive into Emily Is Away. It's a short playthrough, with each year only lasting a few minutes. With well-written conversations that emit raw emotions, you're transported back to sitting at your dial-up desktop within minutes of Emily putting up her moody away message.
Replay Value Rating: 4/5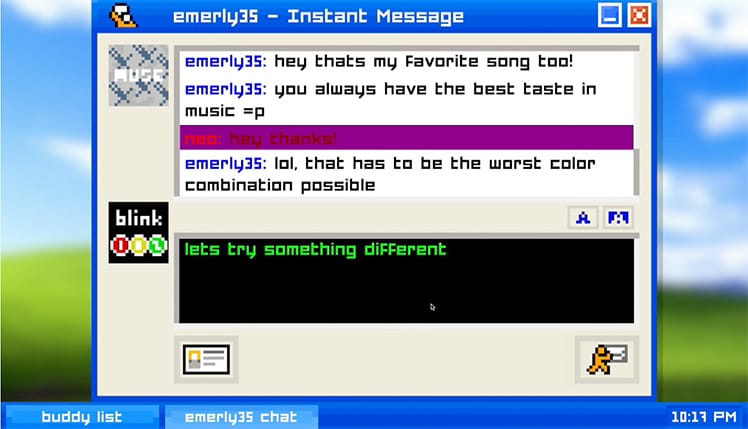 TL;DR
Emily Is Away is a visual novel based on AOL Instant Messenger -- the early 2000s internet chat culture sensation.