About The Tenants
The Tenants - Repair, Renovate, and Rent!
The Ultimate Game of Landlords
Welcome to the Property Ladder
Early Access games are a varied lot. Some games feel like they're in very early Alpha or Beta testing, allowing players to get a look at something new before anyone else. While other games feel like unfinished concepts that just ran out of money and have to be pushed out the door.
Ancient Forge Studio's latest release, The Tenants is currently in Early Access. The indie devs have a few kinks to work out but this is a property management simulation game with a lot of potential.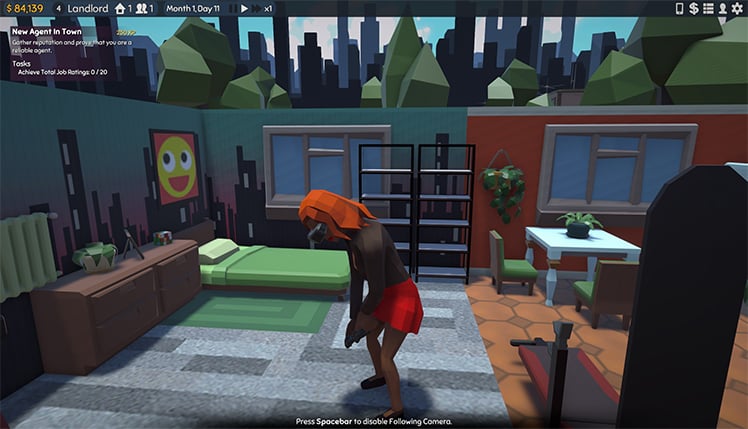 Rent Control
The Tenants stands out if you just look at the game's basic concept. There are plenty of games about homeownership and building simulations out there, but there are relatively few games that put you in the role of the landlord. Having this perspective is very unique, especially as it requires you to spend some time taking on the role of a person who might otherwise be the villain in another game.
It's nice to see that the game has a real focus not just on managing tenants, but on managing properties. You've got to learn a little bit about how to renovate, how to buy, and how to present your properties to attract tenants to do well at this game. This is an area in which the game shines, even if the actual gameplay in those areas leaves something to be desired.
Concept Rating: 4/5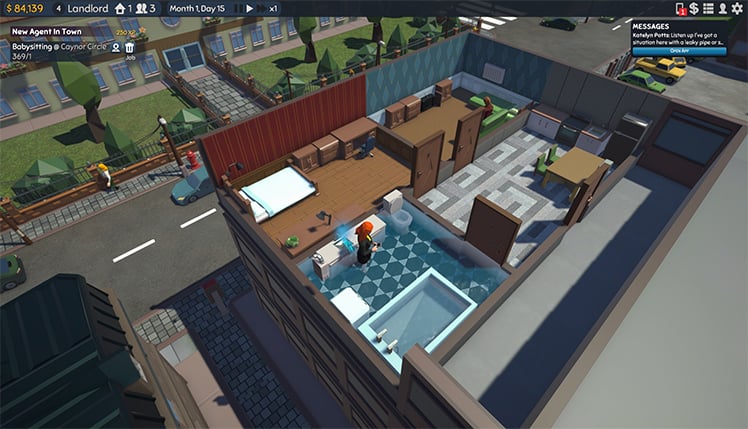 A Fixer-Upper
The Tenants looks a lot like one of the earlier Sims games but in the best possible way. Everything is just cartoony enough that it looks fine when you're playing, but still realistic enough that you take the game seriously. The backgrounds and buildings all look fantastic, while all of the humans are a little more stylized. Fortunately, this works well for the game.
The audio is nothing special, but that's fine. You'll get the usual ambient music or background noise, but that's it. Fortunately, there's nothing that's going to make you want to turn your speakers off here. There may be still work yet to be done on the game's sound design, but it's still serviceable as it is.
Graphics & Audio Rating: 3.5/5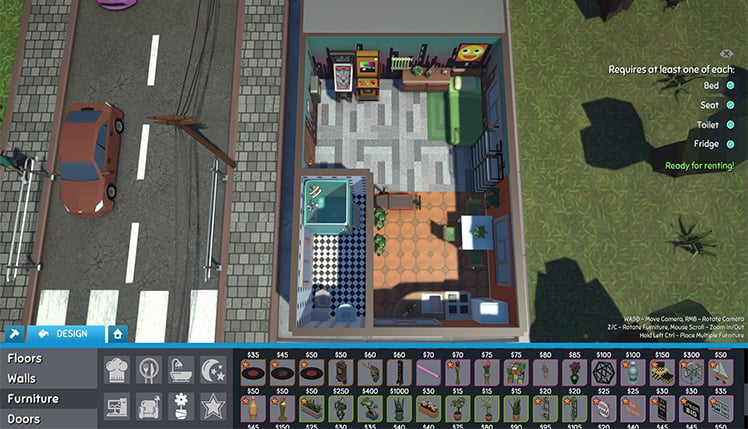 New Construction
Where The Tenants tends to falter is in the gameplay. It's not that the game is necessarily bad, it's just that it doesn't feel like it's quite at the point where all of its concepts work. Even if you take the parts of the game on their own, you'll see that there's still some work yet to do.
You'll spend a good deal of your game buying and renovating properties so that you can get the right renters and maximize your income. Unfortunately, it's hard to tell exactly what the game wants in terms of renovations and even harder to figure out what's going to get you good ratings. That means you're going to find yourself struggling early in the game when money is tight.
Tenant management is another place where the game falls apart. It's not so bad early on, but it feels impossible when the game starts moving more quickly. There just aren't enough quality-of-life tools available within the game to keep tenants happy, and that means you're
Gameplay Rating: 3/5

Good Bones
The Tenants is a game that feels like it has a lot of potential, but that doesn't mean that it's worth playing quite yet. The game feels like the definition of an Early Access title, with plenty of bugs yet to be fixed and a lot of mechanical challenges to be overcome. That's not to say that this game can't be fun, but the sheer scope of what's left to be done does leave a lot to be desired. This is a game to keep watching, though, as it feels like it can eventually become something special.
Replay Value Rating: 4/5
TL;DR
The Tenants is a property management simulation game that is still going through some significant Early Access growing pains.