About Dorfromantik
Dorfromantik - Puzzle and Chill
You'd Be Hard-Pressed to Find a More Relaxing Puzzle Game
SUB
Dorfromantik is an interesting entry into the popular puzzle genre by combining relaxing, peaceful graphics, bucolic backgrounds, city building, chill melodies, and interesting puzzles. The game has been developed and published by Toukana Interactive, a small studio that is just four people operating out of Germany and is available to play on PC (via Steam and GOG) and Nintendo Switch.

The Most Peaceful of Puzzlers
Puzzle games come in many forms. They are cheap, and plentiful, and need to do something different to break the mould and play in a way that can capture a gamer's attention. Dorfromantik, thankfully, succeeds in this regard.
The game combines a couple of interesting puzzle elements into something new and different. It primarily uses city builder and tile placement elements. You get a stack of alternating tiles that you can place across a hexagon-shaped board. Your job is to place the right combination of tiles - such as forest, woods, train tracks, and fields - and make it into something magical. Some missions and quests can only be completed by executing the right combination of tiles. All of this, of course, requires planning and thinking ahead.
The concept is a well-worn one, but Dorfromantik executes it with a very nice polish and peace.
Concept Rating: 4/5

It Feels Like A Board Game
The final piece of Dorfromantik is the atmosphere that the graphics and audio help create. As noted above, the developer is a four-person studio, so you're not going to get Civilization VI levels of graphics or immersion. Instead, you get a more relaxed feel. The graphics look hand-drawn, and this adds an element of charm. Dorfromantik looks and feels like the computer-game equivalent of a road trip down an empty country road, replete with peaceful nature and soothing sound effects. If you close your eyes and imagine, you can feel as if you are playing a board game, instead of a game on a computer.
The audio acts as an excellent supplement to these efforts. It's certainly not anything to write home to in and of itself, but the game comes with soft sound effects, birds chirping, and atmospheric music that helps create the sense of peace and serenity that this low-pressure game comes with. The large swaths of white space and easy-to-operate controls further enhance these feelings.
Graphics & Audio Rating: 4/5

Me, Myself & I
Dorfromantik is a peaceful building strategy and puzzle game where you create a beautiful and ever-growing village landscape by placing tiles. Explore a variety of colorful biomes, discover and unlock new tiles, and complete quests to fill your world with life!
You start the game with a certain amount of tiles. Your job is to then place these tiles in a certain order, creating a landscape that intermixes various features. More placements result in more objectives to fulfill, and fulfilling those gives you more tiles. However, you have to place each tile in the order given, and within certain parameters. This means that chance can destroy your city, which delays meeting your objectives and creating an ideal city, but it's one of the few areas of randomness in this game that can slightly spike your blood pressure. This can also make planning difficult, but it's something you have to factor into your overall plans.
Sadly, there is no multiplayer and no online version. Indeed, you're not playing anyone - all you're doing is trying to create the best board possible, all while meeting the objectives that the game will throw in front of you. On one hand, this enhances the feel of a low-pressure, casual game. On the other hand, if you like competition, tension, and winning, Dorfromantik may not be the one for you. It's all so low-stakes that many intense gamers may wonder why they're even bothering to play at all.
Gameplay Rating: 4/5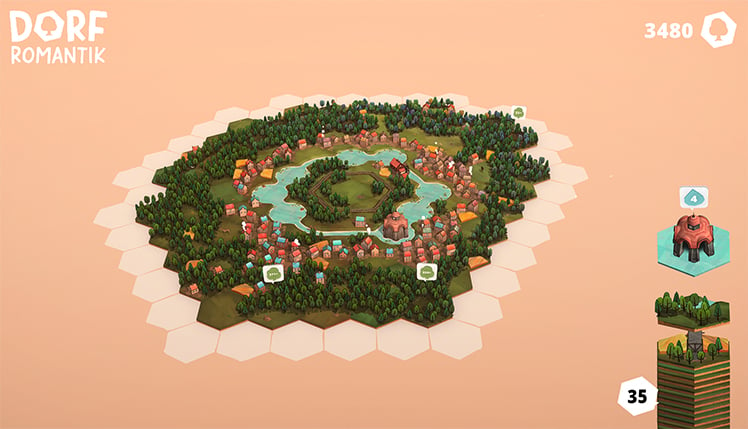 Full Game Inbound
At the moment, Dorfromantik's full version is not yet available, but according to Steam, it should be available at some point this spring. You can get the game on Steam, GOG, and the Nintendo Switch for $9.99.
In terms of replayability, you're in luck. New games give new tiles, new objectives, and new challenges. Of course, you can still get bored with the overall gameplay, and if that happens, you may be done. We look forward to playing the full version when it's released in the next few months. Way to go Toukana Interactive!
Replay Value Rating: 4/5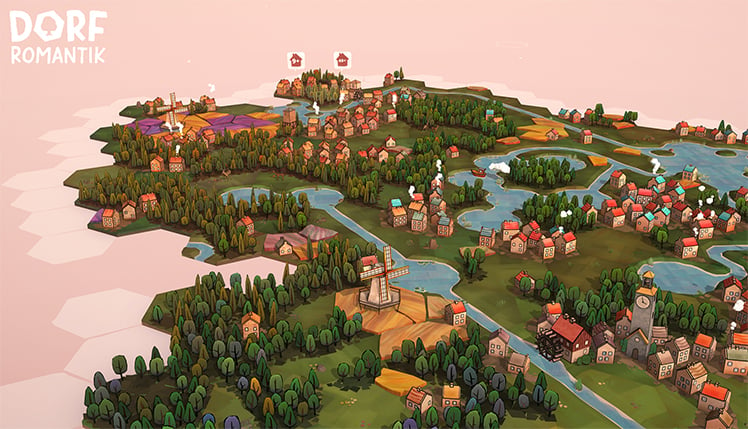 TL;DR
Dorfromantik is a clever, relaxing, atmospheric puzzler that combines a variety of popular elements into a casual city builder.