About Mr. Prepper
Mr. Prepper - Build The Ultimate Bunker
A Survival Sim Based on Doom That Never Comes
Escape Plans Foiled Yet Again
Welcome to Murricaville. Anyone who likes tyrannical governments finds it a lively place! Everyone else? Well, you had better follow the rules... or else!
See a very different side of authoritarian life in Rejected Games' latest title, Mr. Prepper. It's a take on the classic survival simulatior. Instead of surviving an apocalypse, though, you have to survive endless scrutiny, suspicion, and general skullduggery from an endlessly nosy government.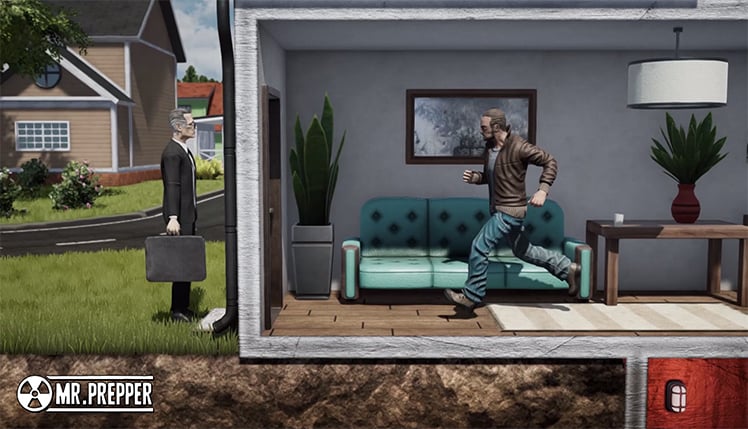 Prepper Meet Simulator
Mr. Prepper is truly a game all about surviving, even if the apocalypse never comes. The government is just as dangerous as any end of the world in this game, so tread carefully.
Plot a massive bunker to hide your intention to escape from this authoritarian rule. The government knows that you already tried to escape once, so they're on the lookout for even one such thing! Gather resources from items in your home. Eventually, venture out to local areas for more sophisticated items. Manage these resources while maintaining the appearance of a good citizen of Murricaville who would never try to disappear in this 4/5 concept.
Concept: 4/5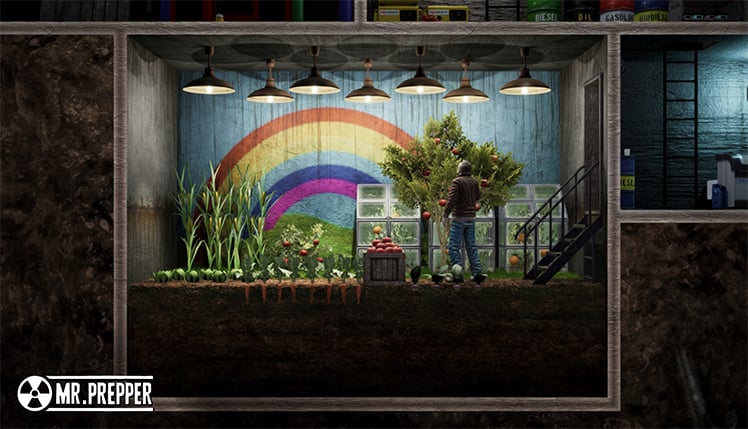 Atmosphere Is Average But Solid
The graphics in Mr. Prepper may not be the most stunning, but they certainly hold their own in 2021. Your house and bunker are the main settings, but the forest, mine, and a few other locations are also pretty major. They look good enough, with plenty of areas for exploring and scavenging, and the maps offer some secrets tucked away.
Mr. Prepper runs smoothly, looks good, and has very few technical glitches.
Sounds come in handy when you're getting inspected, as well as during scavenging or driving. Accompanying the government agents inspecting your home is some serious music, making for a great, threatening atmosphere every time those stiff suits show up. It's a great use of some good music. All in all, the graphics and audio create a 4/5 atmosphere. Mr. Prepper runs smoothly, looks good, and has very few technical glitches.
Graphics & Audio: 4/5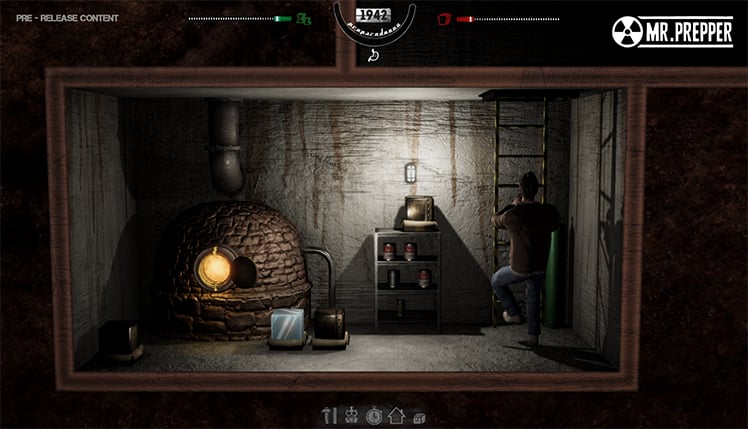 Balance Resources, Sus, and More
Listen, the government is already onto you. They're the entire reason that you're stuck in Murricaville, prepping for escape or apocalypse-- whichever comes first. It's up to you to keep things on the down-low, from hiding your base entrance to concealing resource use and even your whereabouts or activity.
Gather resources and construct a bunker beneath your home.
Gather resources and construct a bunker beneath your home. You can break down items within your walls, but eventually, you get to branch out. There are side quests from a colorful cast of NPCs you'll meet, like fellow preppers or suspicious good neighbors.
Those pesky suits will drop by whenever they feel like it, in addition to having scheduled visits. The more you build your base, the harder it will be to hide! Experience a hefty set of crafting recipes, all designed to fit into your ultimate escape plan.
Check your quests on a secret board in your bedroom to keep tabs on the latest goals. Denote progress by days on a calendar, which sometimes gives you a heads-up before a government visit. You can also always get helpful hints and tips from checking your mailbox on your way to the Mines or the Forest, where dangers lurk.
Combat is tediously easy, unfortunately.
Combat is tediously easy, unfortunately. Most enemies are things like bats, rats, desert wolves, and snakes. Finding super-powerful weapons like guns happens pretty early on, too.
All in all, the 3/5 mechanics in Mr. Prepper keep your resources full but may leave you wanting something a bit meatier in terms of gameplay.
Gameplay: 3/5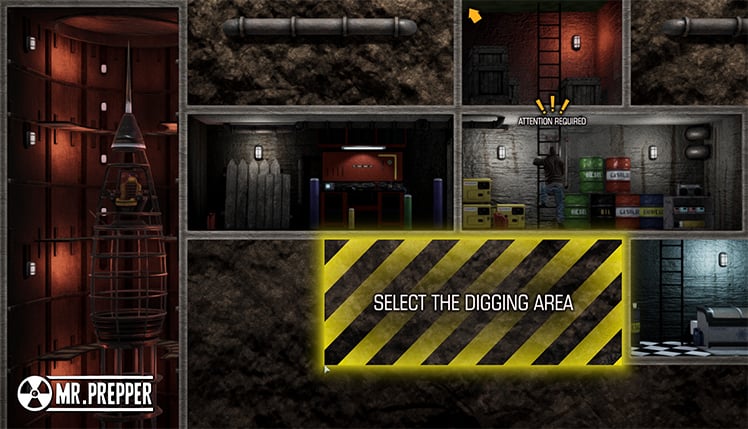 Prepper Basics Plus Simulator Management
There are certainly some great aspects about Mr. Prepper. Take an outrageously nosy government keeping relentless tabs on a wildly unhappy citizen, for one. Another might be the bunker-building mayhem you'll encounter. But if you're looking for a nitty-gritty survival challenge, this indie game might not be worth picking up.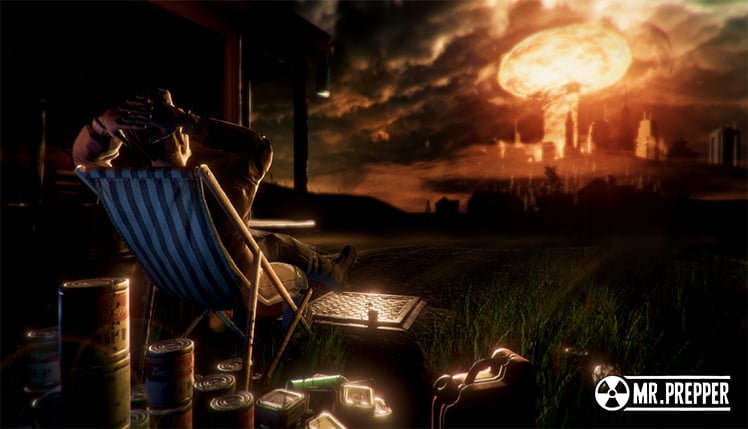 TL;DR
In the survival sim, Mr. Prepper, build a sprawling underground bunker and survive the authoritarian rule of America.