About Crab Game
Crab Game - Absolutely NOT Based on Any Famous Korean TV Show...
Survive Nine Minigames to Win the Ultimate Cash Prize
Familiar and Fun
Are you looking for a funny game to play on PC? Squid... err, I mean Crab Game, is a free-to-play, first-person battle royale available to play for the Windows, macOS, and Linux operating systems via Steam. The wacky game was developed and published by Muck developer, Dani. The Norwegian developer claims his latest multiplayer game is "definitely not based on any online streaming pop culture Korean tv shows, as that would get me in legal trouble, so we're certainly not doing that." Since its release on October 29, 2021, Crab Game is starting to become a bit of a sensation on Steam and Twitch. Let's take a closer look and find out what all the hype is about!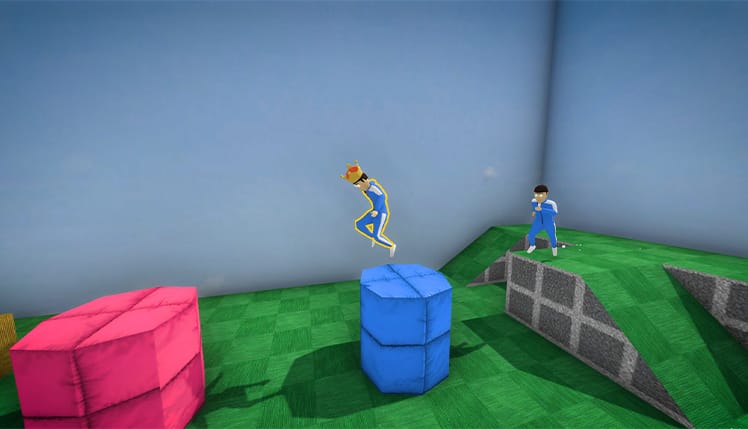 Most Definitely Squid Game
Let's face it, as much as Dani needs to say Crab Game is not Squid Game, it most definitely is. Crab Game is a first-person PvP battle royale where up to 35 players compete in 9 different timed minigames reminiscent of various children's games, like Red Light, Green Light, etc. Competitors play until the last survivor claims the ultimate cash prize. The concept may not be unique, but at least it's entertaining.
Concept Rating: 3/5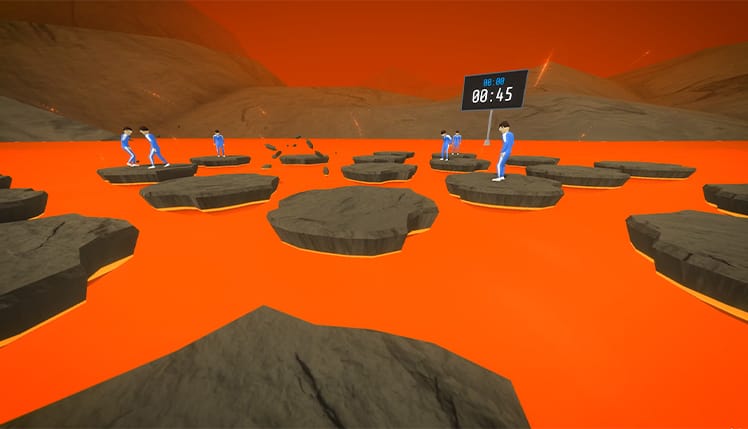 Wacky, Physics-Based Fun With Friends
Crab Game's graphics are reminiscent of Dani's first game, Muck - a fun and challenging survival roguelike. Also, the game's 3D graphics and wacky animations, including ragdoll-physics, remind us of games like Landfall's physics-based battle royale, Totally Accurate Battlegrounds (TABG), or Totally Accurate Battle Simulator (TABS). For example, if a player loses a minigame, they spontaneously explode, spewing 3D chunky blood and guts everywhere -- hilarious!
Like Among Us, Dani also included a proximity chat mod with audio distortion. Giving 35 players a mic definitely keeps things interesting. At least players have the option to switch it off. Overall, the audio is clear and adds to the fun and light-hearted nature of the game.
Graphics & Audio Rating: 4/5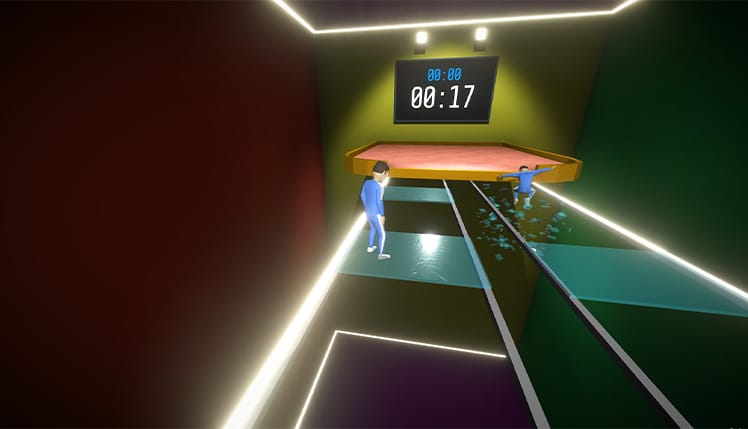 Try Not to Explode
Crab Game gives us all the Fall Guys feels with the chaotic free-for-all-style gameplay and goofy antics. With multiplayer features, the game hosts nine challenging minigames over 28 maps. Competing with up to 35 players in each minigame can be challenging as each player can sabotage your gameplay by pushing and shoving or bashing players with a baseball bat, etc. You better make sure you're up for the challenge, though. Each player has an internal microchip that makes them explode if they lose a game, so that should be motivation enough to win!
Here is a closer look at some of our favourite minigames:
Glass Window
Players attempt to cross a glass platform and reach the other side. One of these platforms is crooked and will break once you step on it. You can press the attack button to push one of the players onto each platform. However, if you fail to reach the platform in under two minutes -- game over.
Fish Game
The game is similar to the Red Light, Green Light in Squid Game. Players run while the statue is looking their way (Green Light). When it turns around, facing the players, they must stop and remain still (Red Light). Obey the rules, and players will hopefully manage to reach the finish line within the given time frame.
The Floor is Lava
Players jump across rock and ice platforms. They will then stay on them and wait for the timer to run out. The rock and ice platform will break, forcing players to switch platforms. Before the platform breaks, it will begin to shake and later dissolve. Players must keep a close eye on the platform that is breaking.
Lights Off
This game mode is similar to the one in Squid Game. The players are armed, and when the game hosts turn the lights off in the rest area, every team will fight if they want to survive. However, you should pay close attention as the light flickers, as it helps to show where the players are. When the time limit comes to an end, only survivors will advance to the next level.
Pass The Bomb
In this Tag-inspired game, players must pass the bomb or stick to another player. Use the attack button and press the left-click on the mouse to tag a player and pass the stick/bomb, but when the timer goes off, the player holding the stick/bomb is out.
Gameplay Rating: 4/5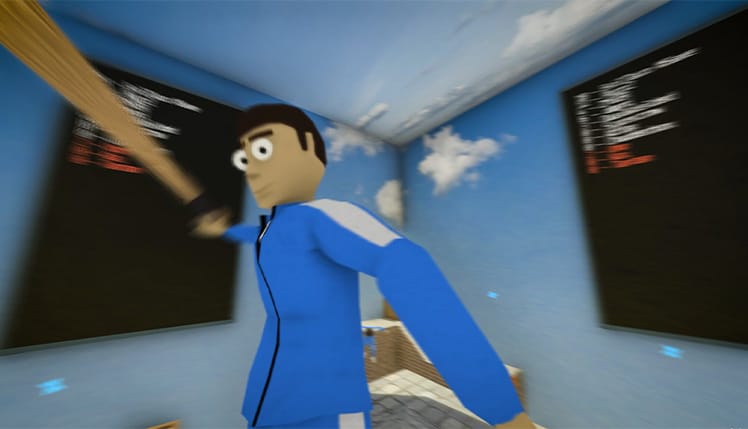 A Fun Game, Not Just for Squid Game Fans
As a newly released game, Crab Game has had a few bugs. However, Dani has done an excellent job with updates and fixes. Even with the recent DDoS attacks (sorted out now!), Crab Game hasn't lost its appeal.
So, whether you are a fan of Squid Game or just looking for a new casual multiplayer game to play, Crab Game is worth a play. The concept isn't new, but the physics-based animations combined with a fun PvP battle royale experience will leave players addicted.
Replay-Value: 4/5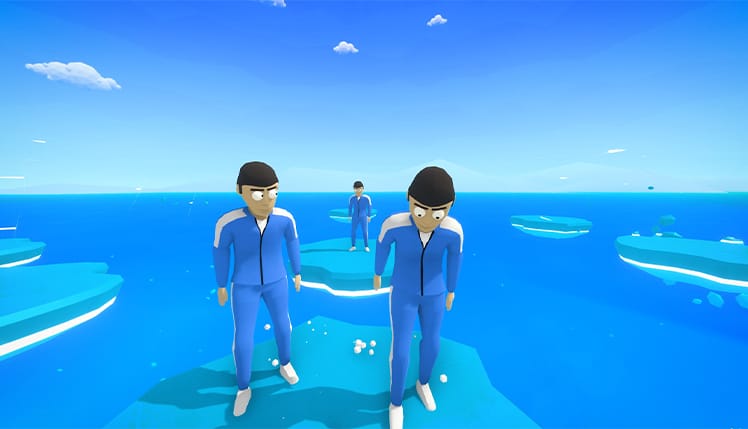 TL;DR
Crab Game is a fun and engaging first-person multiplayer game that will have you hooked from your first minigame to your last.