About Totally Accurate Battle Simulator (TABS)
Developed by Landfall, Totally Accurate Battle Simulator (also known as TABS), is a simulation strategy game, available for Xbox Seris X|S, Xbox One, and the Windows operating system. This video game transports the player through the wars of human history, from medieval times to modern warfare. TABS allows players to take control of the battlefield as we've never seen before. It contains a wacky, state-of-the-art physics system. This amusing take on strategy battle simulations has a rewarding single-player experience. It also has many weapons and units for use on the battlefield against your enemies-- whoever (or whatever) they may be!
[TABS] transports the player through the wars of human history, from medieval times to modern warfare.
Solve increasingly difficult simulation puzzles in the campaign mode using carefully planned tactics. Create armies of farmers, Spartans, or even dragons in sandbox mode. Then pit them against one another across differing landscapes. This simulation strategy video game is full of possibilities.

Totally Accurate Battle Simulator's Features
TABS left PC Early Access on April 1, 2021. It has a variety of play options available. There are currently 25 levels of the campaign in single-player mode. Players start out with a simple stone age faction. They slowly build an army to battle it out with the toughest opponents. By defeating many different enemies, players unlock different units. Units don't come onto the battlefield for free, though! Be sure to spend your in-game money wisely when thinking up a new battle plan. With this tactical playstyle, users can create lots of winning techniques to get them through tough spots. Mix and match defensive units with a heavy-hitting offense. Use ranged ranks to take out enemies from afar.
Recreate ancient battles in sandbox mode or try something new...The choices are endless.
There is also a sandbox mode. In this mode, players can recreate ancient battles. They can also try something completely new! The choices are endless. Users pick from a variety of maps to populate with fighters on both the silly blue and red armies. Set up a fleet of ice archers on the plains and watch them freeze giant foes from across the battlefield safely. Pit hoards of melee skirmishers against one another in the tight-quartered city and watch them duke it out to the finish.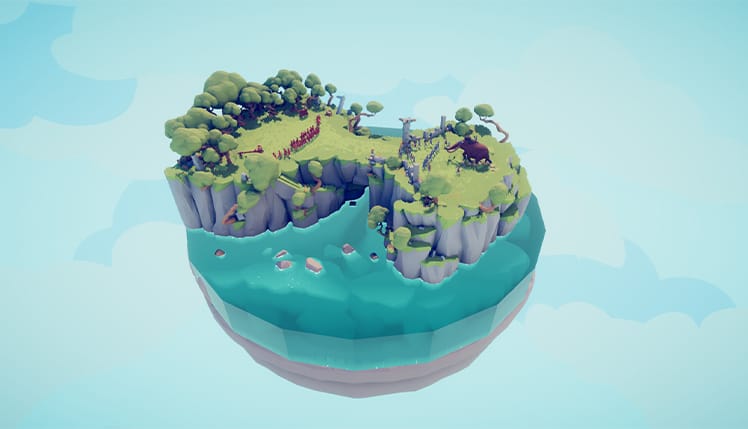 In Summary
Totally Accurate Battle Simulator (TABS) 1.0 is now available with multiplayer, two new factions, and so much more! With the added features and updates, it's still a very comical strategy simulator. It has modes that offer players many ways to enjoy its wild combat physics system. Its wobbly red and blue armies add to the game's charm. The developers at Landfall have been working on the video game since 2016. For regular updates and news, check out Landfall's YouTube and Twitter pages.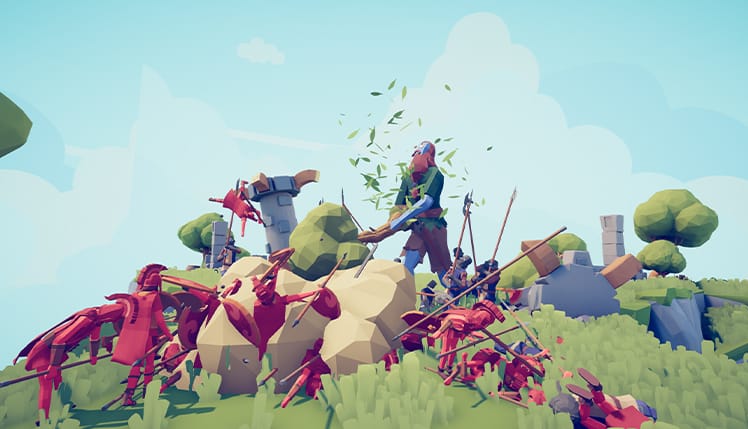 ---
TABS - Review: A Battle Sim That's... Totally Accurate?
Ragdoll battles to the extreme.
20th Best Steam Game Ever
There are plenty of battle simulators out there. However, few compare to Totally Accurate Battle Simulator. The name gives you exactly the kind of game you're getting into; it's a battle simulator-- with a twist! Totally Accurate Battle Simulator, also known as just TABS, features the wackiest ragdoll physics out there.
Additionally, TABS features over 140 units from a host of different genres. Play with armies of pirates or renaissance knights! The game spent years in Early Access, tweaking and adding all kinds of content. As a result, the game offers tons of different features like campaign mode, online multiplayer, and even a custom unit builder!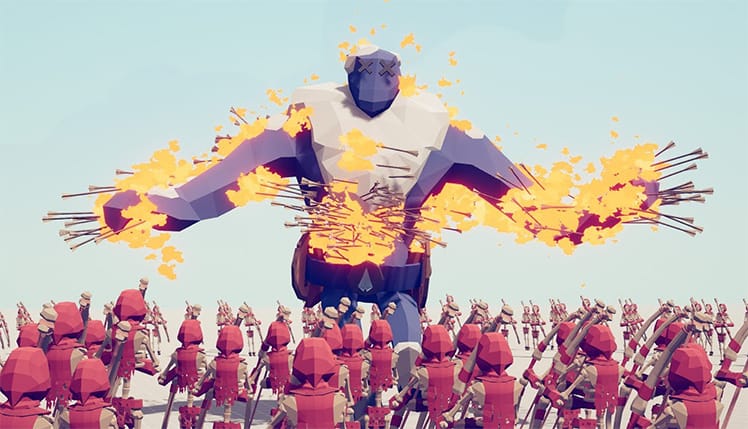 Battle Better
Honestly, who doesn't want their battle units to run into the fray with wildly wiggly wagging arms? It's a 5/5 concept right out of the gate. In TABS, every single fighter does exactly that. There's no need to worry about lackluster wackiness; it oozes from every pore of this simulator from the ground up.
TABS pits two armies full of units against one another: blue versus red. The goal is simply victory over the opposing team. Take to a variety of different battlefields and watch red and blue units alike go flying! Who will come out on top depends on strategy and a hint of harnessing the madness.
Concept Rating: 5/5

Basic But Built that Way
Alright, honestly? TABS isn't going to win any awards for its detail in graphics and audio. Units are super basic: they're blocky figures with a certain amount of damage they deal and a certain amount of hit points. They're categorized into groups this way, although they can look unique, so there's that. Alternatively, design units with unique sounds in the workshop-- the cool quality of life addition.
Furthermore, TABS has ragdoll physics that is pretty on-point.
While these things may not be top-of-the-line, they hold their own in a saturated market. TABS has audio and graphics that still tower above plenty in this genre, earning a 5/5.
Graphics & Audio Rating: 5/5

Play Solo, Online, or Create
TABS began as nothing more than pitting two teams against each other and seeing who won. The armies collided on nothing more than a blank battlefield.
Long gone are those early days, though! Now, TABS boasts three different major modes: campaign, online multiplayer, and workshop.
The campaign mode teaches you the basics of the TABS system, including what units are effective against which counterparts. Learning these skills is critical to having success on the battlefield. An endless amount of luck will only take you so far if you're using weak units against tank-types in battle.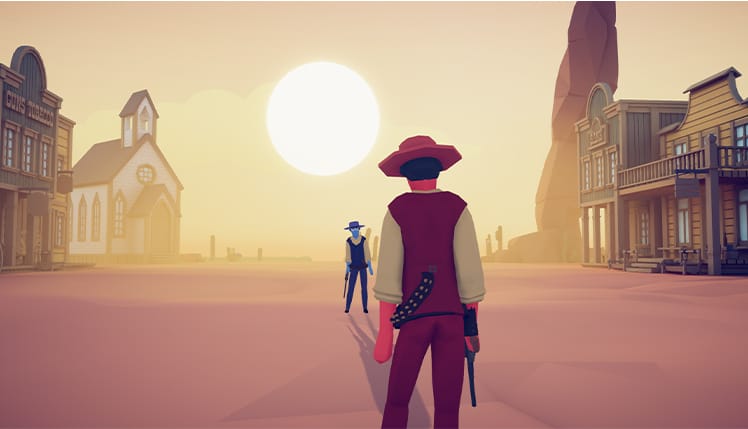 The difficulty in campaign scales up: The Introduction, The Adventure, and The Challenge. Each group has a different selection of battles that will test your skill while leaving you laughing!
Meanwhile, online multiplayer pits you against your friends or strangers around the globe. Take on others and build the best unit. Climb to the top of the leaderboard and show off who's got the best army in TABS!
Probably the most alluring mode is Workshop, though.
Here, you can design your very own units! Pick from campaign or online and create from a nearly endless set of options. Design units to pierce your enemy's defenses with brute force, or create a new type of stronghold tank to wear them thin. The possibilities are vast; it's easy to sink countless hours into this impressive tool.
TABS earns a perfect 5/5. It's got everything a battle simulator should feature, from its wildly unpredictable physics to its custom units. The online play features easy connectivity, and the campaign is stuffed with challenges to make you a better TABS player.
Gameplay Rating: 5/5

TABS Is a Must-Play
If you haven't heard of or played TABS by now, you are seriously missing out!
Replayability: 4/5
TL;DR
Totally Accurate Battle Simulator (TABS) is the simulator with the most accurate battle ragdoll physics game, with fantasy-based armies, historical battle units, and more!