About The Oregon Trail
The Oregon Trail - Dysentery Has Never Been So Enjoyable!
A Wagon Party's Hazardous Journey From Missouri to Oregon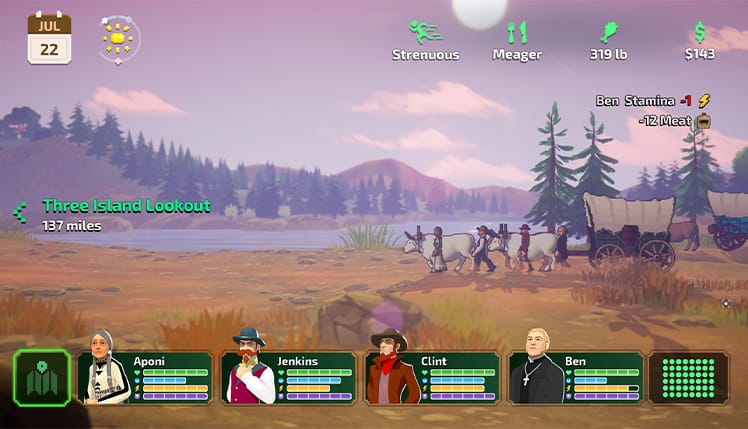 The Revival of a Classic Game
After its 1971 release, a text-based game called The Oregon Trail became one of the most iconic games in history. Anyone who enjoyed the classic game as a child is in for a dose of nostalgia, as The Oregon Trail is now back in an entirely new form.
Developed and published by Gameloft, The Oregon Trail is a historical adventure game available on Apples Arcade, PC (via Steam and the Microsoft Store) and Nintendo Switch. Heavily inspired by the original text-based version, this version comes with modernized graphics, new features, quests, playable journeys, and much more.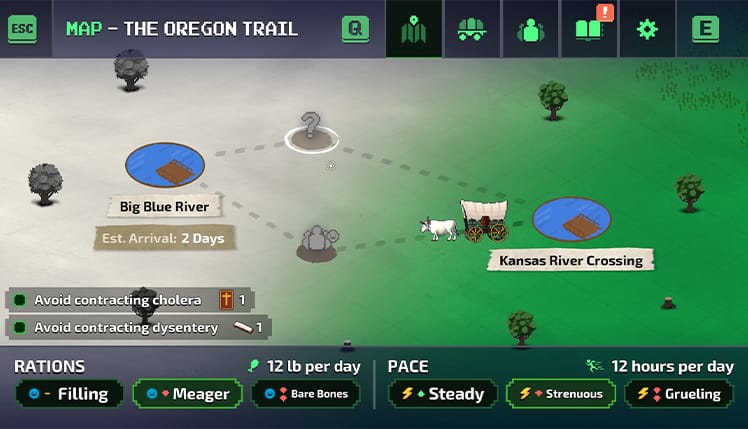 Journeying to Oregon
In The Oregon Trail, you control a party of 19th-century settlers traveling the dangerous road from Independence, Missouri, to Oregon's Willamette Valley, where they hope to start a new life. Along the way, your group must fight for survival and overcome various challenges and tragedies. Whether it's one of your settlers dying of dysentery, a powerful blizzard halting your progress, or your food supply dwindling, you must find ways to carry on.
Like the original version, much of The Oregon Trail is text-based. The game presents you with choices -- you decide how you want to proceed and manage your party. However, every choice impacts your party, so think wisely and strategically.
Concept Rating: 5/5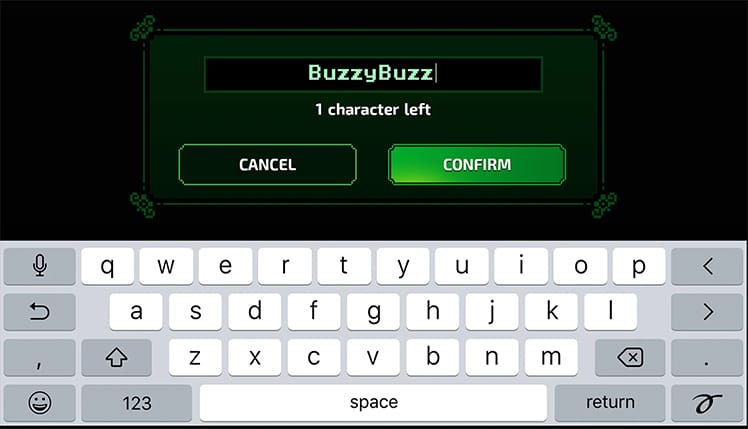 A Much More Visual Experience
As you'd expect from a video game released in 1971, the original version of The Oregon Trail would not hold up to today's standards of graphics and visuals. However, that isn't the case for this new adaptation.
The new Oregon Trail game features charming pixelated characters, vivid 3D environments, and impressive visual and lighting effects. The entire game is a very visual experience, as your party's eventful journey consistently plays out in front of you in detail.
During your journey, your group will pass through snow-covered plains, sparkling lakes, dense forests, and various other settings, each boasting beautiful visuals. Although the animations aren't the most advanced or realistic, the creative blend of 2D and 3D graphics give the game a unique aesthetic.
The Oregon Trail also boasts a lovely soundscape that perfectly matches the game's setting. Depending on where you're at in the game, the background music can be soothing and peaceful, cheerful and festive, or dark and dreary.
Graphics & Audio Rating: 5/5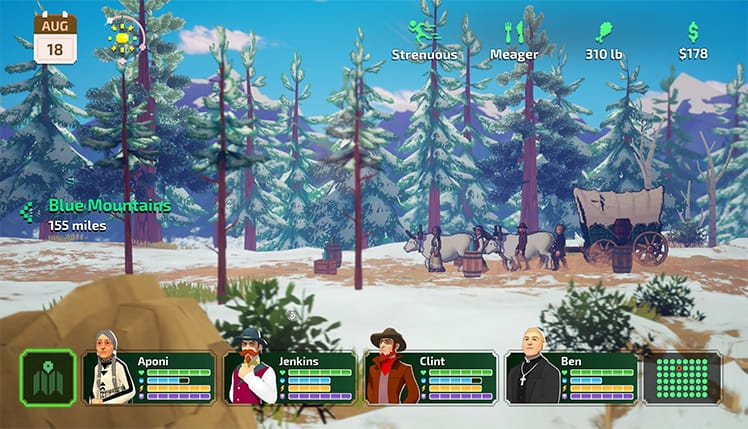 Building Your Party
If you're a fan of the classic Oregon Trail game, it won't take you more than a few minutes of gameplay to realize that this new version has many more features to offer. One of those cool new features is the ability to build your customized party of members who will make the long journey with you.
The game has several party classes for you to choose from, each with unique starting items, skills, and character personalities. The party drafting feature means every time you play through the game, every journey along the trail will differ.
Balancing Act
Much of the game's thrill and challenge comes from managing the overall well-being of your party. While gradually moving along the trail and dealing with its many dangers, you constantly need to monitor your members' health, stamina, morale, and hygiene. You also need to carefully manage your party's supplies, which you access and use through a pop-up inventory interface.
While gradually moving along the trail and dealing with its hazards, you constantly need to monitor the health, stamina, morale, and hygiene of your group members.
At first, balancing these responsibilities can be very challenging, and sometimes, it will feel a bit overwhelming. There's a good chance that your first few attempts to navigate the trail will fail. However, you should be able to improve steadily and consistently as you learn to deal with hazards and manage the needs of your group.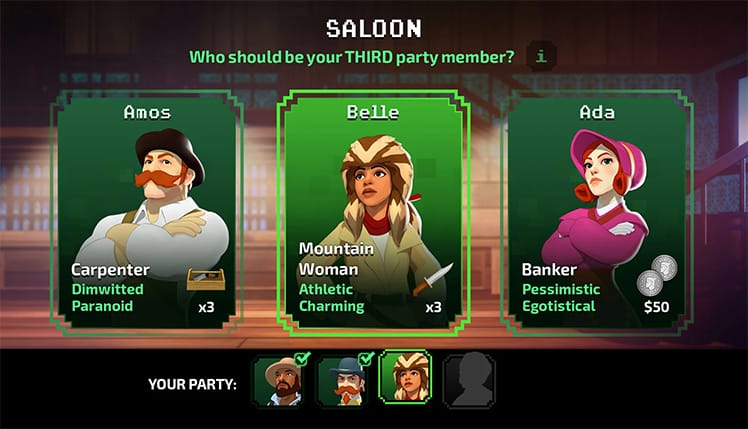 Dealing With Random Events
One thing the new Oregon Trail game has in common with the original is the random scenarios that will regularly occur during your journey. Several unexpected events can suddenly happen, including your party members becoming ill, your wagon breaking down, or one of your oxen breaking its leg. When the game throws these obstacles at you, you often have to make tough decisions for the good of the journey.
When the game throws these obstacles at you, you often have to make tough decisions for the good of the journey.
Engaging Mini-Games
If you asked gamers decades ago what their favorite gameplay feature of The Oregon Trail was, most would probably choose the hunting and rafting mini-games. These players will be thrilled to know that both activities make their glorious return in this modern version of the game, and they're better than ever.
While there are a few improvements, these mini-games remain faithful to the originals. In the hunting game, players can aim in more directions, and characters with better stamina can carry more meat back to the wagon. Additionally, white-water rafting and hunting offer much more appealing visuals and smoother gameplay.
Other Cool Features
Because The Oregon Trail is so jampacked with content, it'd be challenging to touch on everything here. For instance, you'll have the opportunity to meet and interact with several real-life historical figures throughout your journey. Using your interactive journal, you can learn about these people, their actions, and the role they played at the time.
On your way to the Willamette Valley, you'll also pass through several camps and towns. These stops allow you to restock much-needed supplies, but only if you can afford them, making shopping and resource management crucial gameplay elements.
Gameplay Rating: 4/5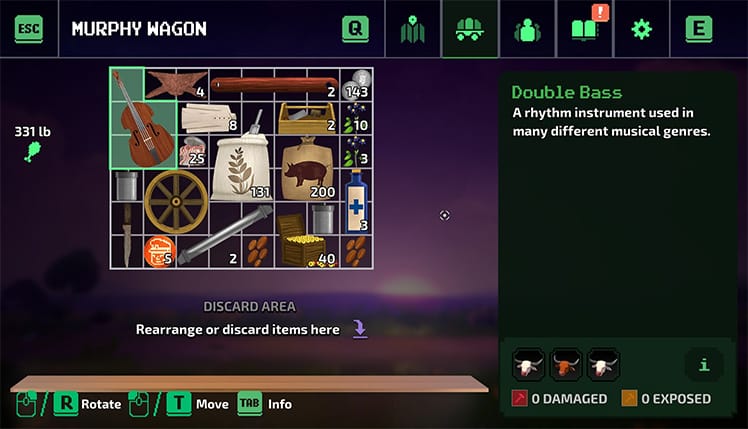 How To Start Your Adventure
The modern version of The Oregon Trail launched as a mobile game on Apple Arcade on April 2, 2021.
As of November 14, 2022, the adventure game is now available on PC and Nintendo Switch.
If you want to play the mobile version, you can sign up for an Apple Arcade subscription for $4.99 per month. Feel free to scan the QR code below:
Alternatively, you can purchase the full game for PC (via Steam and the Microsoft Store) or Nintendo Switch for $29.99. For the nostalgic, challenging gameplay experience that it offers, this price is more than reasonable.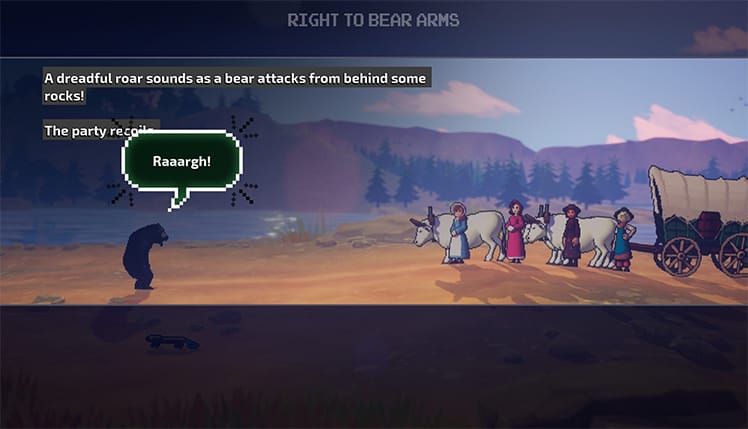 A Beautiful Adventure Through the Past
There's no doubt that fans of the classic game will get the most out of The Oregon Trail. After all, nostalgia is a powerful thing. However, this game has plenty to offer anyone who enjoys unique adventure games.
The Oregon Trail features gorgeous visuals, an appealing story, and challenging gameplay. Plus, with so many playable journeys, quests, and characters, the game offers many hours of entertainment.
Replay Value Rating: 5/5
The Pros
Wonderful nostalgia
Lots of content
Beautiful visuals
Challenging gameplay
The Cons
Fairly slow-paced
A bit repetitive at times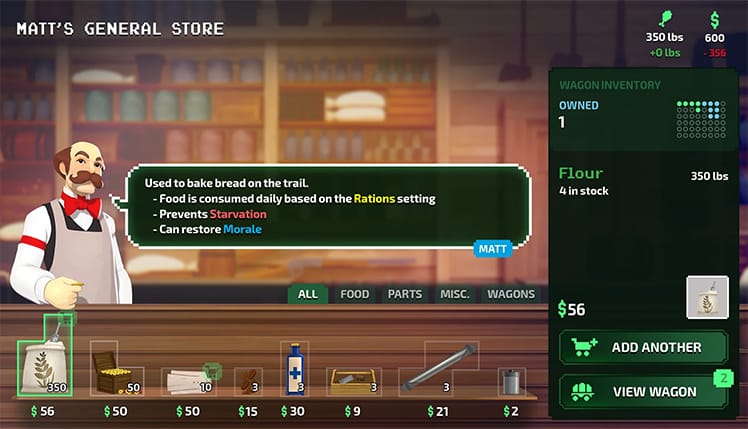 TL;DR
Not only does The Oregon Trail offer plenty of nostalgia, but the unique historical adventure game also comes with modernized graphics, and exciting new features and content, bringing new life to a classic game.