About Pupperazzi
Pupperazzi - A Doggone Fun Game
Cute Dog Photos Finally Infiltrate the Gaming World
Puppy's First Steps
Pupperazzi is a lighthearted and unique 3D platformer developed by Sundae Month and published by Kitfox Games. The quirky game, which is available on Xbox Series X/S, Xbox One, and PC (via Steam and Itch.io), offers a novel mashup of adorable pups and photography.
With so many indie games released each year, it can be challenging to find the ones that feel original and different. While Pupperazzi has its flaws, it certainly has the flavor of something you haven't had before, and that alone makes it an interesting game to explore.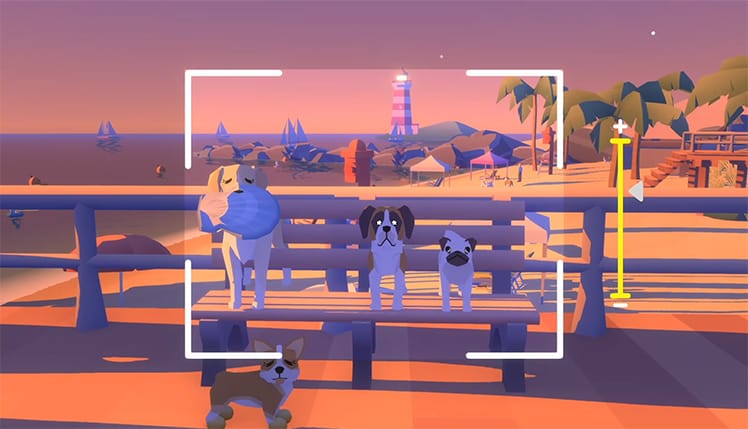 Become the World's Greatest Dog Photographer
In Pupperazzi, you play the role of a strange human-camera hybrid, and you travel through a puppy-filled 3D world in hopes of becoming a master dog photographer. You view this world of puppies through a first-person perspective, unlocking new and diverse areas as you progress. The canines are independent creatures in this universe, so the shibas, pugs, terriers, labs, and various other breeds all roam the cities, beaches, and parks entirely free.
The world is a sandbox-style setting. Aside from your goals and progress as a dog photographer, there's no linear narrative or storyline. You spend the entirety of the game exploring various locations, completing tasks, and snapping pics of playful pups—many of whom are dressed to the nines in stylish outfits.
The concept of Pupperazzi isn't the most thrilling basis for a game, but it's undeniably cute, and it's nearly impossible to play it without a smile on your face.
Concept Rating: 3/5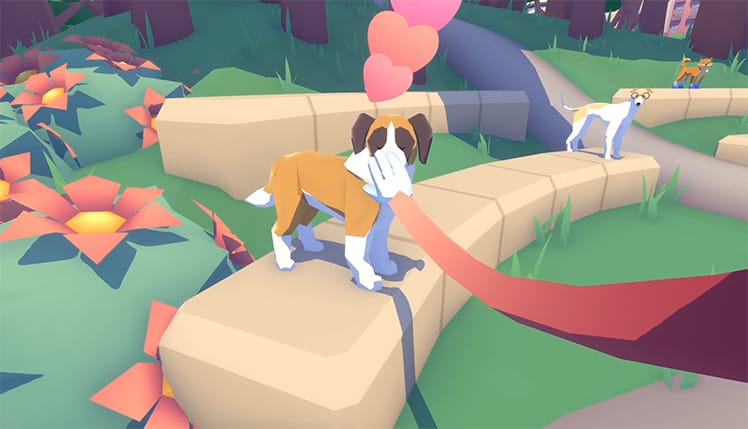 Charming 3D Animation
Pupperazzi's world is one of interesting angular animation that bursts with lush color. Despite the somewhat unusual animation style, many of the dog models maintain a bit of realism in their appearance. It's pretty stiff and clunky when the pups move around, but you can tell that's the developers embracing the game's silliness.
Daytime exploration is enhanced by the bright blue sky and colorful buildings, and the game manages to give each area a distinct aesthetic. Overall, Pupperazzi's graphics aren't particularly intricate or advanced, but they're pleasant to look at and a good fit for the game.
Explore the lighthouse cove, take a sunset stroll on the boardwalk, zoom around the city of Muttropolis, and more!
The soundtrack to your photography adventure is pleasant, upbeat music that suits the game's tone nicely. Hearing the "click" of the camera is always satisfying, especially when you get the pic just right, and of course, there are plenty of dogs barking.
Graphics & Audio Rating: 4/5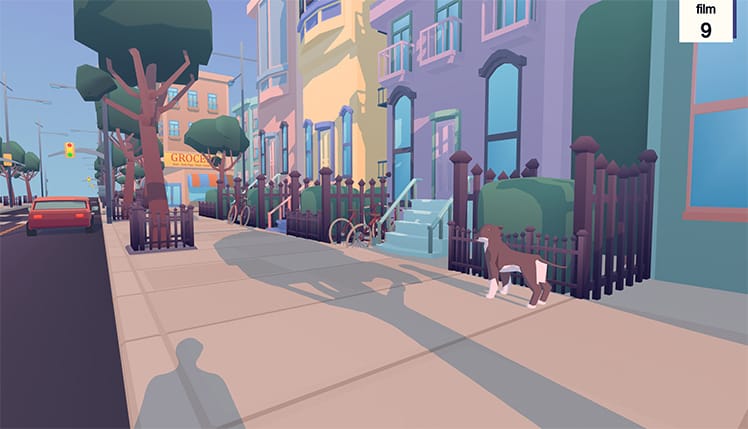 So Many Puppies, So Little Time
Pupperazzi has only one game mode, in which you freely navigate the world looking to shoot up the ranks of dog photographers. It isn't as simple as finding a puppy and snapping a pic though. You spend much of your time lining up the perfect shot and taking it before another frolicking pup wanders into the frame.
To move up the Pupperazzi ladder, you need to build your notoriety by completing various objectives. These tasks are listed for you on a menu, and they entail things like getting a picture of a dog riding a bike, sitting on a bench, or dressed up in a certain outfit. Each distinct location you visit will have its own set of objectives; most are pretty quick and straightforward, but they add some structure to a game that doesn't have a ton of it.
Building a Following
When you complete objectives, you frequently receive bone-shaped currency as your reward. One way you can use this currency is to upgrade your photography gear with things like filters, slow-mo, zoom, lenses, and more. Alternatively, you can use the bone dollars to buy extra followers for your social media presence.
When you snap puppy pics, you have the option to upload those pics to your character's social media profiles and gradually obtain a following. The photos you upload are judged by your fans, and the better they're received, the more successful they are. Having more followers unlocks new areas to explore and more dogs to interact with, so there's plenty of incentive to strive for perfection with your photography.
Yes, You Can Pet Them
You'd have to be pretty twisted to create a game full of cute dogs without letting the player pet them, but Sundae Month wouldn't do that to you! In Pupperazzi, you can interact with the pups in more ways than just taking photos; you can also play with them, dress them up, and join them for boisterous little dance parties.
Play fetch, dress them up in different hats, terrorize them with vacuum cleaners (you monster), and start dance parties.
Meandering Through Levels
Overall, the game doesn't offer a ton of structure. You'll be glad the menu-based objectives exist because otherwise, the playing experience would feel a bit aimless. While taking pictures of dogs is a fun and novel concept, it's not a game you're likely to binge for hours on end.
Gameplay Rating: 3/5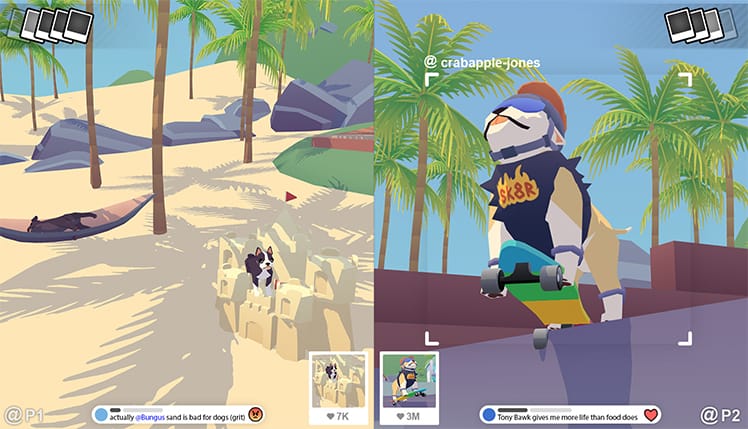 Joining the Pupperazzi
Pupperazzi was released in full on January 20th, 2022, and you can get all versions of the game for $19.99. For the PC version, you can download it through Steam or Itch.io.
That price feels about right for what the game offers. It would be a little extreme for it to be priced at the $50 or $60 mark that many new releases start at, but its silly absurdity alone makes it worth paying $20 for.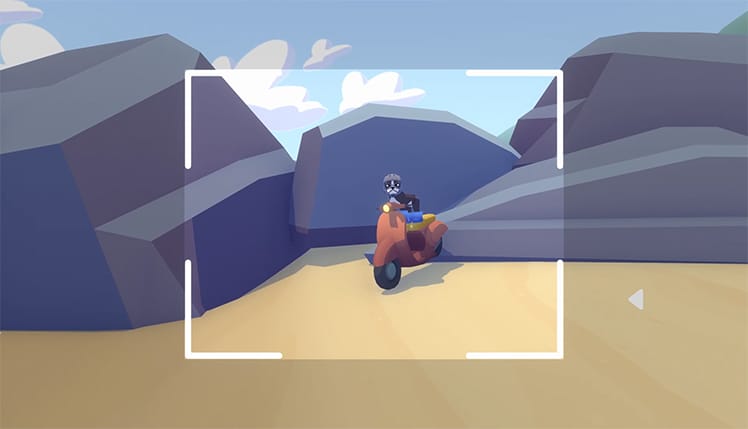 A Fun, Adorable Diversion
If you purchase Pupperazzi, you're probably doing so because you're excited to take pictures of dogs, and the game fully delivers in that respect. There's no shortage of cute pups, and you can capture them in a variety of funny situations and outfits. Even without the objectives or social media aspect, wandering around and playing with the dogs would be worth at least a few hours of entertainment.
With the tasks, character upgrades, and ability to build a following, Pupperazzi takes the step up from an amusing concept to a legitimate game. It's not particularly in-depth or enthralling, but it's pleasant to look at, the soundtrack is upbeat, and the dogs are cute; that's enough to be worth a play or two.
Replay Value Rating: 3/5
Treats
Lots and lots of pups!
Colorful and diverse settings.
Upbeat soundtrack.
Enjoyable tasks to complete.
Bad Dog!
Not many characters and no real narrative.
The concept grows stale after a while.
Could be more to do.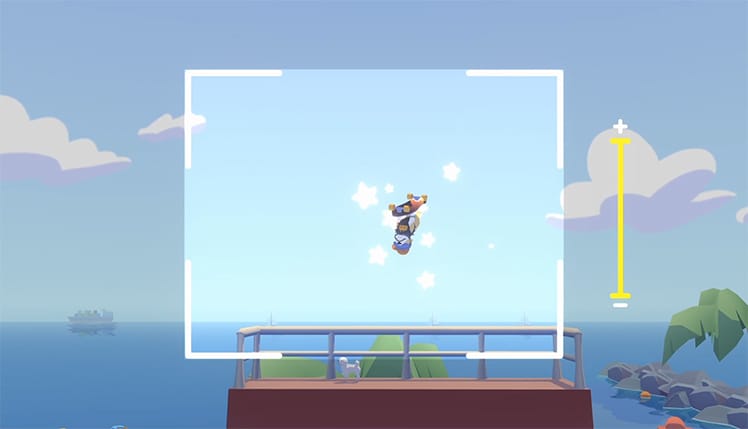 TL;DR
Pupperrazzi doesn't pretend to be an epic gaming adventure, but it delivers what it promises: plenty of dogs to take photos of.