About Peglin
Peglin - An Orb Shootin', Brick Breakin' Good Time!
An Adorable, Nostalgic, and Unique Pachinko RPG Adventure
A Pachinko-Inspired RPG
First, there were pachinko arcade games. Then, there was the smash-hit video game Peggle. Now, there's Peglin -- a unique spin on its predecessors that mixes in RPG and roguelike elements with a whimsical overall feel.
Developed and published by Red Nexus Games, Peglin is a relaxing, turn-based RPG that takes heavy inspiration from the style of arcade and gambling games known as pachinko. Although playing the game—which is only available for PC (via Steam, GOG, and itch.io)—will remind you of watching contestants play Plinko on The Price Is Right, it offers more than just shooting a ball across a board of obstacles.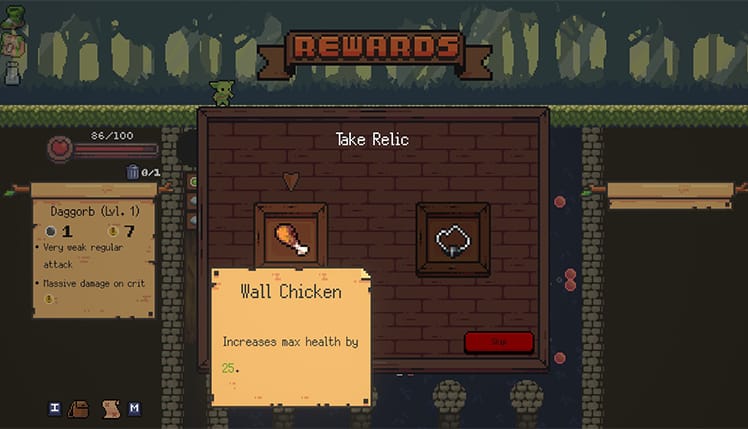 Two Gaming Worlds Collide
In Peglin, you play as a cute little green goblin in a fantasy world. Your character has been getting their gold stolen by the dragons of this world for far too long, and the brave goblin is finally fed-up with it. So, to reclaim your hard-earned gold and teach those dragons a memorable lesson, you'll have to go on a grand adventure to reach their foreboding lair.
Peglin plays like a combination of Peggle and Slay the Spire.
On your journey, you'll explore a mystical forest and encounter many powerful foes, who you must defeat by taking on pachinko-like challenges. To vanquish each monster, you'll have to clear a board of pegs and bricks by deploying your special orbs and hitting as many of them as you can.
If you can pass through all of the woodlands, take over the grand fortress, and infiltrate the lair of the dragons, your adorable little goblin may just get to return home with their gold in hand.
Concept Rating: 4/5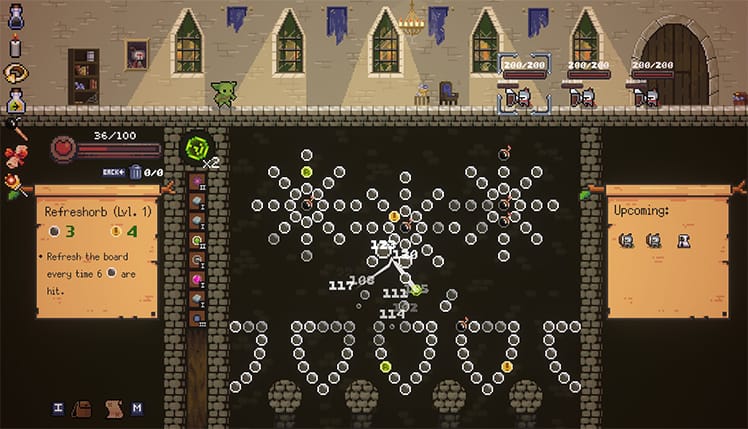 Classic Roguelike Feel
If you're familiar with many of the roguelike games from the late 1990s and early 2000s, you'll probably get hit with a bit of nostalgia while playing Peglin. The game's animation and interface style are very reminiscent of early dungeon crawlers and RPGs. Even the color scheme, which features lots of browns, greens, and grays, provides that classic RPG feel.
The character models—especially the goblin protagonist—are simple and cute, and the enemies you fight are unique, if not particularly terrifying. The pachinko-style levels play nice and smoothly, with relatively realistic physics in terms of the orb movement.
Peglin has a snare-heavy soundtrack that is more background music than anything else. It doesn't add much to the experience or gameplay, but it doesn't bother or distract you, either.
Graphics & Audio Rating: 3/5
A Low-Stress Gaming Experience
If you're someone that craves intense, heart-pumping action in any video game you play, Peglin may not be the right drink to quench your thirst. Rather than a thrilling, fast-paced action game, Peglin is the type of game you can recline in your desk chair at the end of a long day and play for hours on end. However, don't mistake the lack of intensity as boring.
Progressing Through the World One Level at a Time
When you begin your Peglin journey, you start by journeying through a mystical forest filled with monsters that you must defeat. Each enemy or group of enemies will represent one Peggle-like level, and you must clear the board with your orbs to defeat them.
Before you can escape the forest and move on, you'll have to take on one of the game's bosses via an extra-difficult level. Then, you'll move on to the fortress to continue battling monsters and collecting goodies.
Special Orbs and Relics
The forest and fortress contain a variety of surprises that you'll discover as you progress, including special orbs that you can utilize to help you clear the pachinko levels. These orbs have unique abilities that will give you advantages for eliminating pegs and bricks. For example, the Matryorbshka orb will break into several smaller orbs upon contact, allowing you to clear far more of the board with each turn.
Collect and upgrade powerful orbs and relics to defeat the monsters and bosses that stand in your way.
You'll also discover powerful relics throughout your journey, which will help weaken your enemies and even influence the physics of how you defeat them. When you complete levels, you'll sometimes have the option to upgrade your orbs and relics, making you even more formidable and helping equip you for the more challenging battles.
Peggle-Based Combat
One of the best gameplay features of Peglin is its unique combat. When you face off against a monster or pack of monsters, they start with full health bars. Then, when you shoot your orb on the pachinko board, you'll eliminate pegs and bricks, which will damage your enemies.
You must use your orbs wisely, for the evil creatures you fight won't simply stand around idle and wait for you to kill them. If your shots aren't good enough and you struggle to clear the board, they'll slowly but surely be chipping away at your little goblin's health bar. This element does add a little bit of pressure and excitement to each Peggle-like level.
Gameplay Rating: 4/5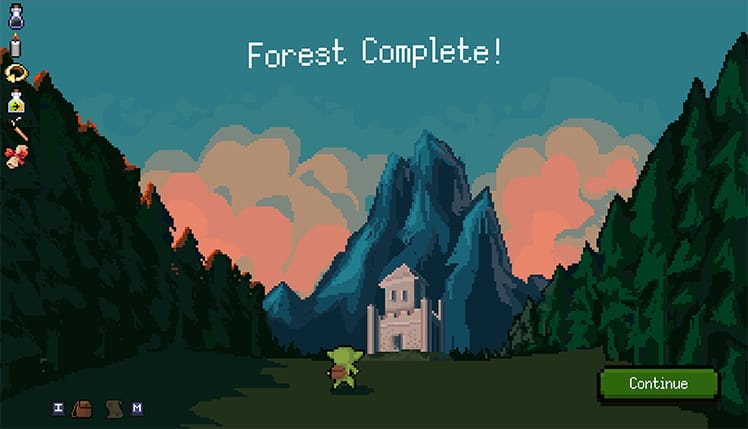 Starting Your Adventure
The Early Access version of Peglin launched on April 25th, 2022. The current version of the game only features around an hour of gameplay, and the developers expect it to remain in Early Access until roughly mid-2023. When the full version of the game comes out, players can expect lots of new content and many new features.
The Early Access version of Peglin is available for $19.99, with a 10% discount available through Steam until May 9th. Although the game isn't super in-depth, it has excellent replay value, so $19.99 is a pretty fair price if you're a fan of Peggle or roguelike RPGs. You can also head to GOG and Itch.io to purchase this fun title.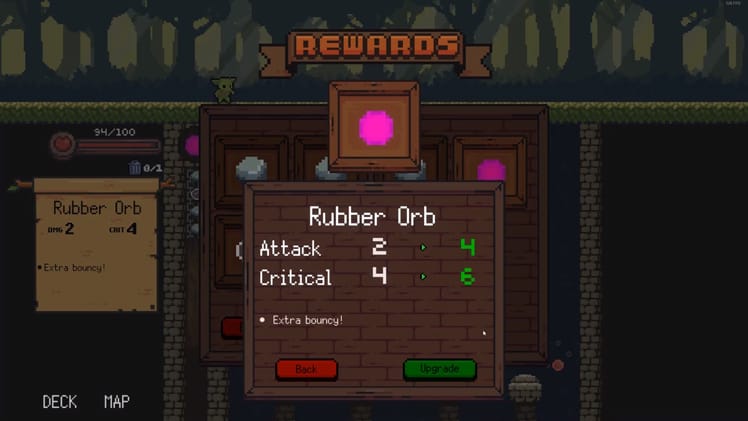 Cute, Pleasant, and Nostalgic
Even if you've never played Peggle, Slay the Spire or any roguelike games in your life, you'll still probably get genuine enjoyment out of Peglin. However, if you're a fan of the games and genres that inspired Peglin, the nostalgia will enhance the gameplay experience further.
Peglin is the perfect game to help you unwind as you transition to relaxation mode after a long day at work. It will keep you engaged and having fun, but it won't keep you wired for hours after the fact like a first-person shooter or certain epic adventure games will. Plus, because the fantasy world features different orbs, enemies, and level layouts each time you play, it's easy to get many hours of fresh enjoyment from the game.
Replay Value Rating: 5/5
Cute, Little Goblins
Nostalgia-inducing graphics and aesthetics.
Fun, relaxing gameplay.
Plenty of genuine challenges.
Mean, Thieving Dragons
A bit expensive for an Early Access version.
Could use a more whimsical soundtrack.
Fairly short runtime.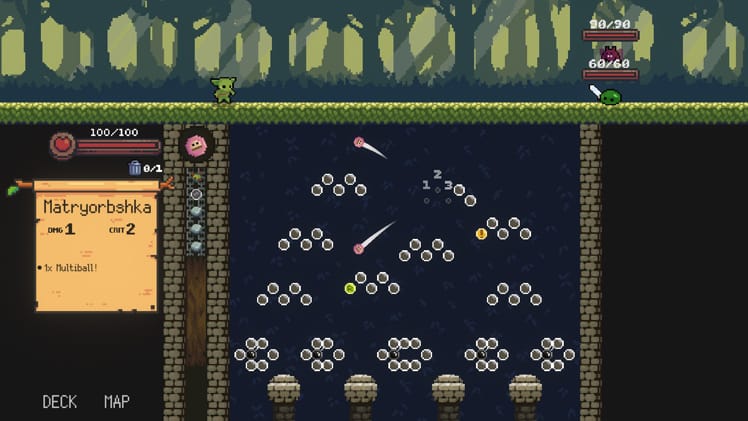 TL;DR
Peglin is a relaxing, nostalgic RPG that takes heavy inspiration from the classic game Peggle.