About Mini Motorways
Mini Motorways - Traffic Management Has Never Been So Calming
Road rage? Never heard of her.

Mini Metro, But With Roads
Mini Motorways is a minimalist, top-down traffic management simulation game developed and published by Dinosaur Polo Club - the Kiwi development team that made Mini Metro. The game was released on July 20th, 2021, and is currently available on Apple Arcade and Steam.
Traffic Management Heaven
Whereas Mini Metro focused on creating subway maps for a growing city, Mini Motorways takes the same concept but with roadways. For gamers who always enjoyed the traffic management aspect of games like Cities Skylines, Mini Motorways will be a welcome novelty.
Mini Motorways presents a growing number of city landscapes to the player as they progress, all inspired by real-world locations such as Los Angeles and Tokyo. Daily and weekly challenges are also offered to players who aspire to ascend the worldwide scoreboards.
The goal of the game is to manage the city's traffic to allow for as many trips between color-coordinated houses and destinations before the city shuts down due to congestion.
Concept Rating: 5/5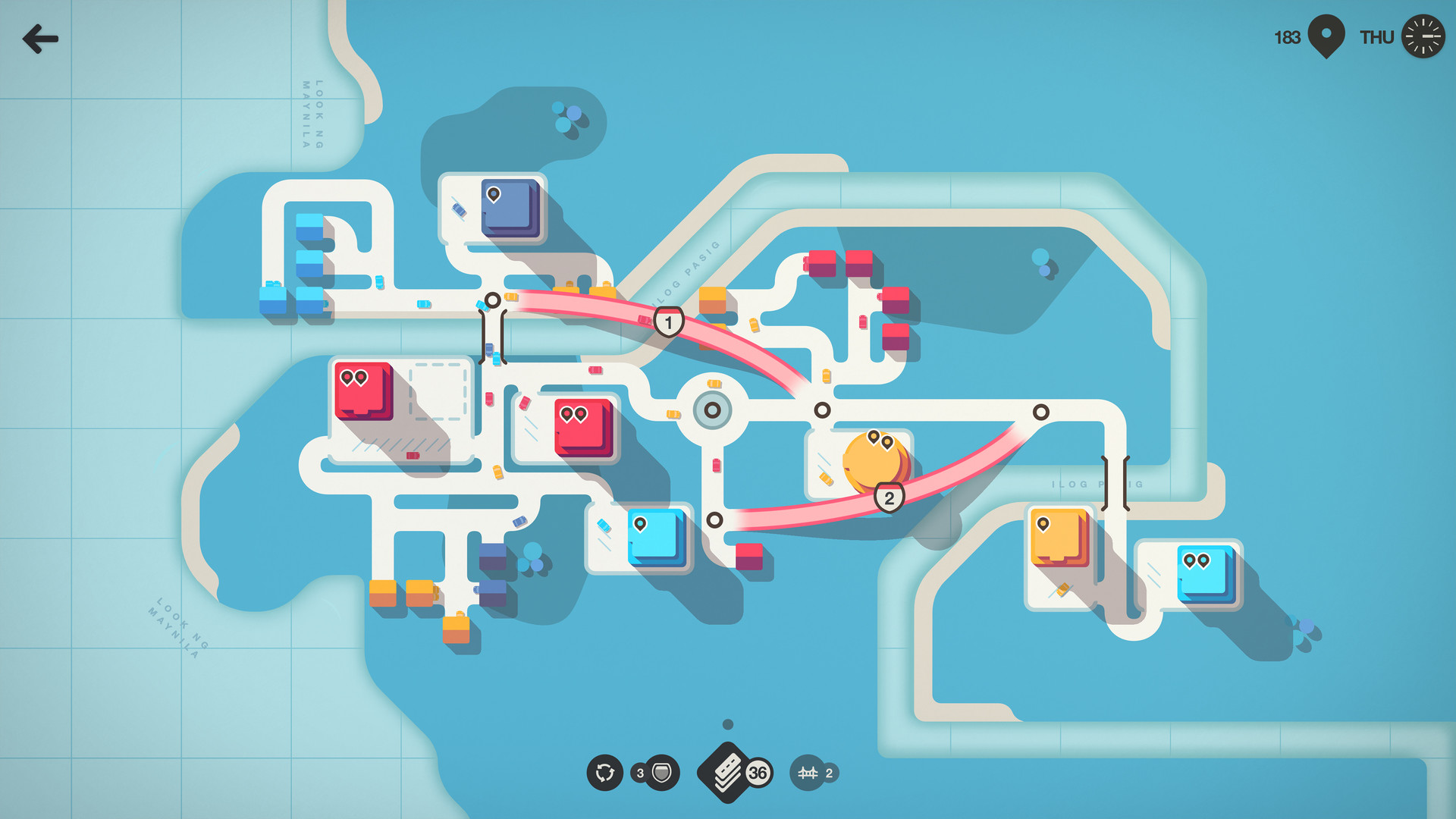 Less Is More
Dinosaur Polo Club has taken the minimalist visual design from Mini Metro and expanded it ever so slightly to fit the appeal of a city's growing roadways. Mini Motorways offers three main visual styles: original, color-blind friendly, and dark mode. All three are a delight to behold, with each city having its own unique color palette.
Fittingly, Mini Motorways has a photo and gif maker mode, allowing players to capture the chaos or organized beauty of their cities. The development team has paid obvious attention to what players might want, giving the ability to toggle destination pings, location names, thematic frames, and more.
The audio - also reminiscent of Mini Metro - keeps in the vein of calming minimalist delight. Dinosaur Polo Club boasts a responsive soundtrack, as designed by artist Disasterpeace. For each destination popup, a corresponding, light "ding" resounds from the game, with each color having its own tone.
This is a game where the graphics and audio come together to make something more than the sum of their parts, and for Mini Motorways, the result is a calming, beautiful atmosphere that doesn't get old.
Graphics & Audio Rating: 5/5
Highways, Tunnels, and Bridges, Oh My!
To start, players will work their way through the location maps, starting with Los Angeles and unlocking more city landscapes as they go.
Each map begins with one destination and one house. Players will click and drag road tiles to connect the two and adapt to new houses and destinations randomly appearing on the map. Houses and destinations have corresponding colors, which is where Mini Motorway's strategy comes in. Players will figure out soon enough that segregating each color is the most efficient and least messy way to achieve a high score, but doing so is easier said than done.
To help manage traffic flow, players are given the choice between two upgrades every "week". These include bridges for maps with rivers, tunnels for maps with mountains, traffic lights, roundabouts, and of course, highways (aka motorways).
Along with the standard maps, Dinosaur Polo Club has implemented daily and weekly challenges for players to compete in. Each challenge has its own randomized set of rules, which might mean receiving half as many road tiles each week or being allowed only two bridges for the whole game.
Gameplay Rating: 4/5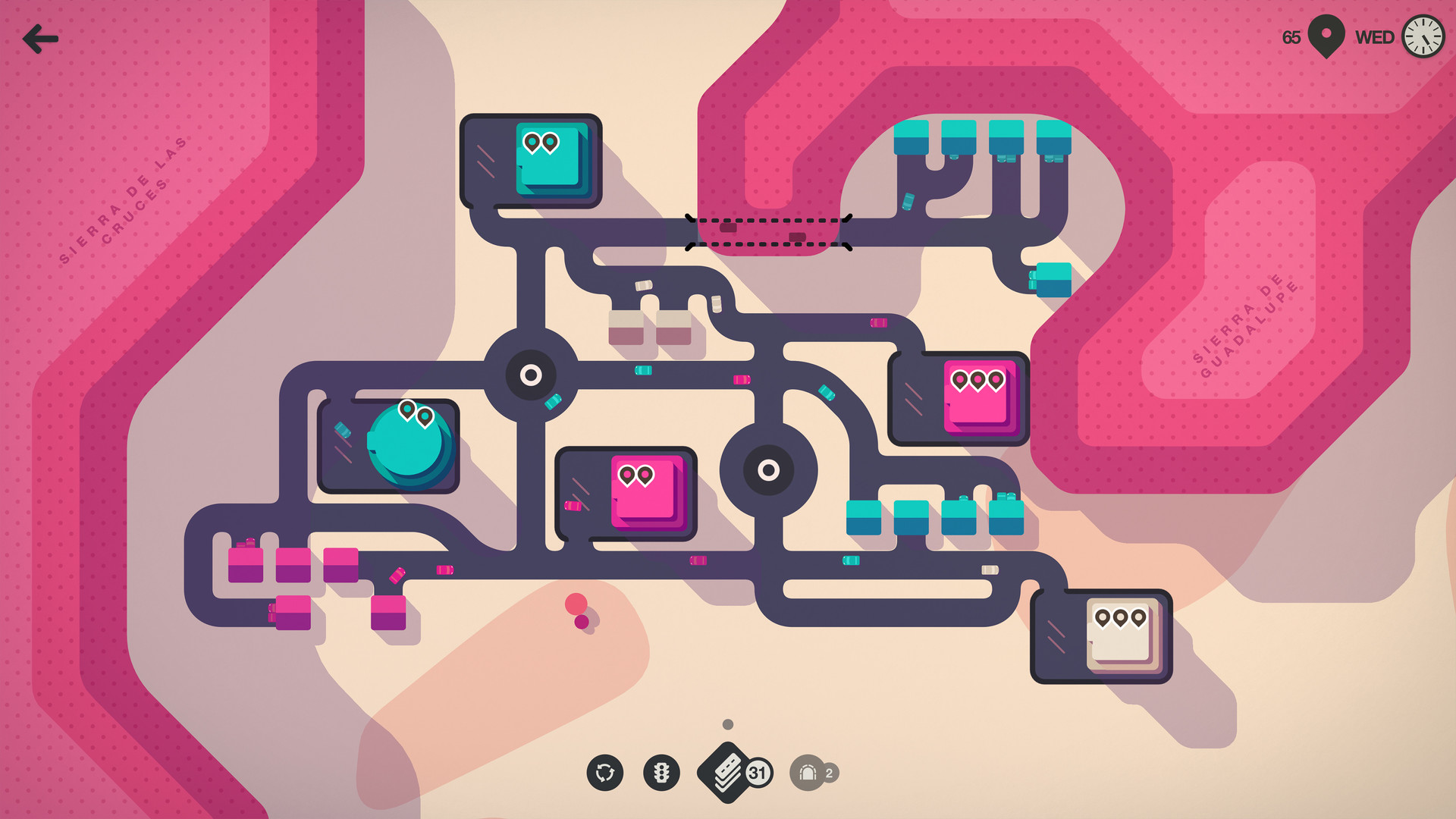 Everything You Didn't Know You Needed
Mini Motorways is a fun yet calming strategy game that doesn't take too long to understand. It can be played casually, but has enough nuance to bring players coming back for more. Experimenting will present new ways to optimize traffic flow, and the level of randomization will help press players to get just a little bit better every time.
Replayability Rating: 4/5
TL;DR
Gamers looking for a relaxing, minimalist traffic management game need look no further than Mini Motorways, thanks to Dinosaur Polo Club.