About Steam Deck
Valve Steam Deck - All Hands On Deck, Or Abandon Ship?
A close look at Steam's upcoming portable gaming PC.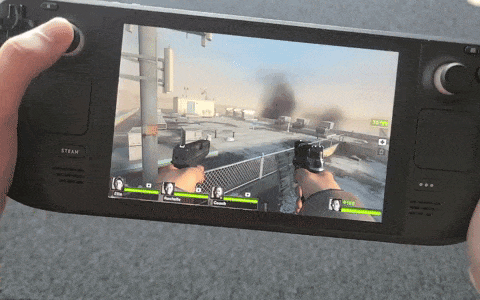 Valve Steam Deck | Credit: Valve Corporation
Everything You Need to Know About the Valve Steam Deck
It looks like a Nintendo Switch clone, but Valve Corporation says it works just like a PC. Steam doesn't have the greatest track record when it comes to releasing their own hardware -- remember Steam Machines? So, what exactly can the Valve Steam Deck do, and is it worth buying?

Valve Steam Deck | Credit: Valve Corporation

Hardware & Design
Valve prides its Steam Deck on being comfortable to hold, and surprisingly, it is. Even though the thumbsticks are notably high on the device, it fits well in your hands. (Yes, even if you've got small hands, all the buttons are still easy to reach.) Along with your classic analog thumbsticks and D-pads, there are left and right bumper and trigger buttons, and four "grip buttons" on the back. These are called L4, L5, R4, and R5, and can be personally configured.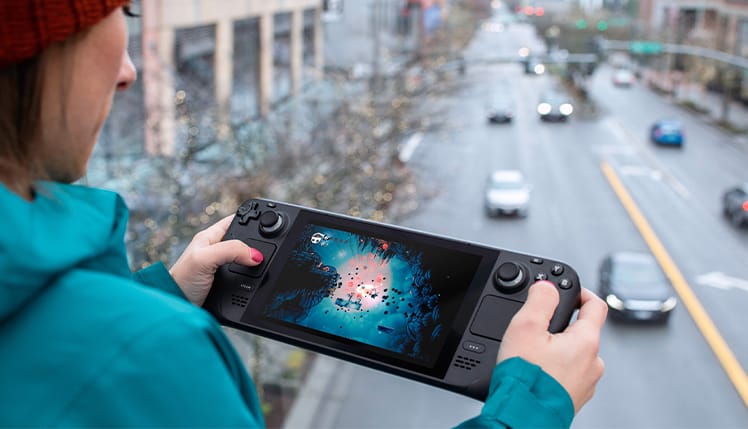 Valve Steam Deck | Credit: Valve Corporation

Features
The Steam Deck will allow you to access and play all your games on your Steam library, with fast storage, Hi-Fi audio, and expandable I/O. It has a fast suspend/resume feature and can be plugged into your TV, which is where it becomes a handheld/console hybrid. So far, all of this doesn't sound too dissimilar from the Nintendo Switch, but that's about where the similarities end. The Valve Steam Deck can work with all of your PC accessories, meaning a mouse, keyboard, or anything else you might want to plugin. It also syncs your game saves and button configurations between both the Steam Deck and your PC.
If you can do it on the PC, you can do it on the Steam Deck.
One major feature that Valve has been adamant to emphasize is that the Steam Deck is a PC. If you can do it on the PC, you can do it on the Steam Deck. This means - like any other PC - you can "bookmark" certain webpages for easy access, and revisit them on your Steam Deck. This, of course, includes the possibility of watching Netflix on it, but this is the one instance where the 720 resolution proves insubstantial.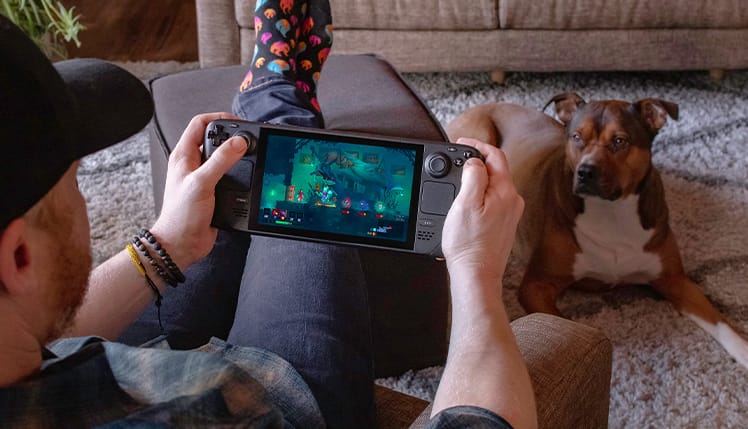 Valve Steam Deck | Credit: Valve Corporation
Key Specifications
Valve claims a 2 to 8-hour battery life, depending on how demanding the game you're running is. Whether this will be enough is likely to vary from person to person.
The Steam Deck has a 7" diagonal touchscreen, with a swipe and multi-touch display. While this might not sound like enough, it actually performs quite well and looks surprisingly crisp with the sub-HD resolution. In short, Valve seems to have done a good job balancing the performance with its design.
Valve claims a 2 to 8-hour battery life...
The processor is an AMD APU, with the CPU being Zend 2 4c/8t, 2.4-3.5Ghz (with up to 448 Gflops FP32), and the GPU being 8 RDNA 2 Cus, 1.0-1.6GHz (and up to 1.6 Tflops FP32). Lastly, the APU power is 4.-15W.
The RAM is 16 GB LPDDR5 onboard RAM (5500 MT/s quad 32-bit channels).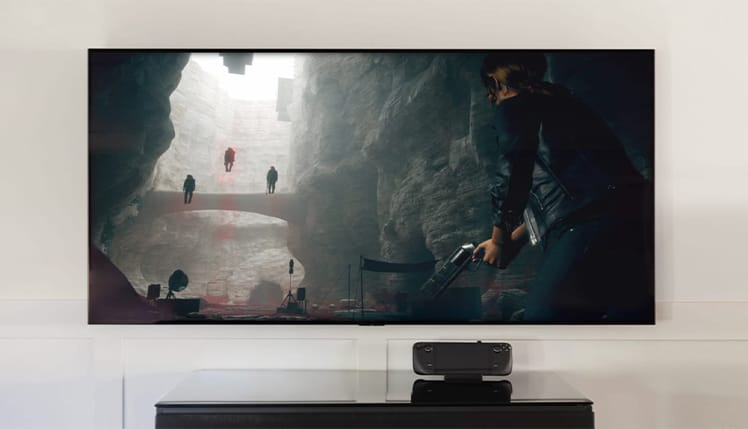 Valve Steam Deck | Credit: Valve Corporation
There are three options when it comes to storage, each at a different price.
64 GB eMMC (with one Gen 2 PCIe)
356 GB NVMe SSD (with four Gen 3 PCle)
512 GB with high-speed NVMe SSD (with four Gen 3 PCle)
All models use socketed 2230 m.2 modules, which aren't intended to be replaced by users, and all models also include a high-speed microSD card slot. Simply put, the first option with only 64 GB isn't going to be enough for most gamers. Even with the MicroSD slot, only 64 GB isn't very future-proof, meaning the second or third option is your best bet when it comes to storage.
The Steam Deck includes Gyro, with a 6-Axis IMU.
There are a number of controls and inputs, including the gamepad controls (A, B, X, and Y buttons), the D-pad, the L and R bumpers, the View and Menu buttons, and four assignable grip buttons. There are two full-size analog sticks that offer capacitive touch, and the device includes HD Haptics. There are two 32.5 mm square trackpads, also with haptic feedback. Compared to the Steam Controller, they offer 55% better latency. There's also pressure sensitivity, which is configurable when it comes to click strength. Lastly, the Steam Deck includes Gyro, with a 6-Axis IMU. The Gyro controls, however, are more meant for fine-tuning. In a first-person shooter, for example, gamers will find using Gyro to be most effective by using the joysticks to do the large motions required for aiming, and the Gyro for more minuscule movements.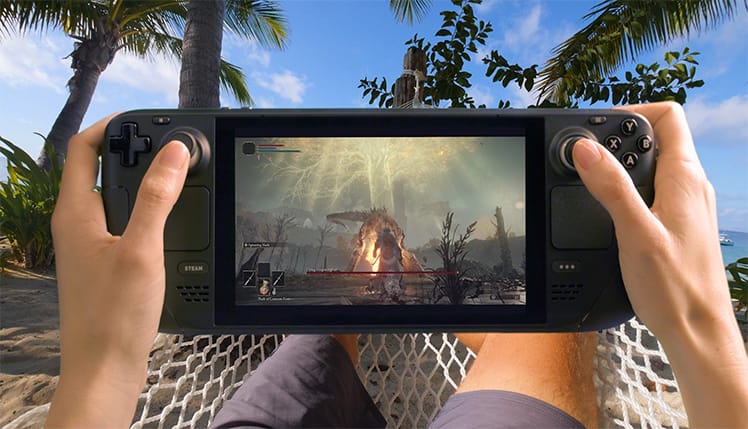 Valve Steam Deck | Credit: Valve Corporation
The 7" diagonal touchscreen display is 1280 x 800px, with a 16:10 ratio. It's an optically bonded PS LCD for enhanced readability, with a brightness of 400 nits, a refresh rate of 60Hz, and an ambient light sensor.
Along with Wi-Fi connectivity, the Steam Deck also supports Bluetooth 5.0 for controllers, accessories, and audio. The Wi-Fi itself is a dual-band Wi-Fi radio, with 2.4GHz and 5GHz, 2 x 2 MIMO, and IEEE 802.11a/b/g/n/ac.
The power input is a 45 W USB Type-C PD3.0 power supply, meaning your standard USB-C cords will be compatible, and the 40Whr battery offers between 2 and 8 hours of gameplay.
Regarding storage expansion, the microSD is UHS-I and supports SD, SDXc, and SDHC. As for external connectivity, the controllers have USB-C with DisplayPort 1.4 Alt-mode support, and the display is up to 8k resolution at 60Hz, or 4k resolution at 120Hz. It also has USB 3.2 Gen 2.
The Steam Deck weighs 669 grams, with its dimensions being 298 mm x 117 mm x 49 mm.
The OS will be Arch-based SteamOS 3.0, with a KDE Plasma desktop.
The official doc for the Steam Deck will be sold separately, and specifications are currently subject to change. For expansion, it has one USB-A 3.1 port, two USB-A 2.0 ports, an Ethernet port, an HDMI 2.0 port, and a 1.4 Display port. It has a USB-C Power Delivery pass-through input for power and a 6" USB-C captive cable with a low-profile 90-degree connector to the dock. The dock weighs about 120 grams and is 117 mm x 29 mm x 50.5 mm.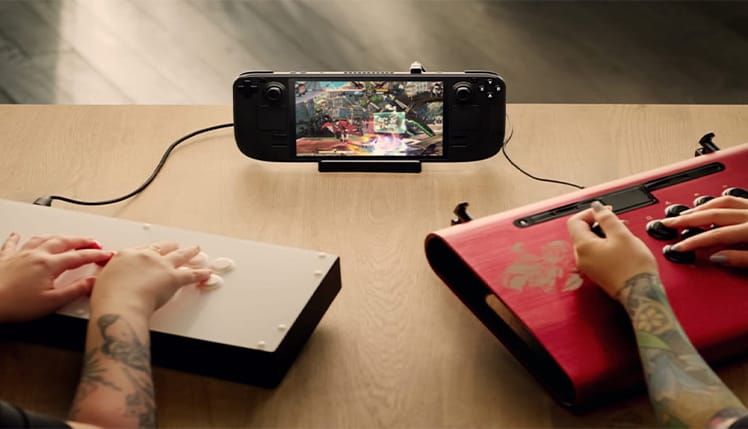 Valve Steam Deck | Credit: Valve Corporation

Performance
The Steam Deck is great to play. It has a comfortable and natural-feeling layout (though it might look otherwise), and has a good weight to it. It's not so light that it feels cheap, but isn't too heavy to hold, either.
The pause menu offers quick access to change settings for screen brightness, volume, microphone, Wi-Fi, and Bluetooth.
Compared to a device with similar specs and capability such as the Aya Neo, the Steam Deck has a thicker profile, and isn't as "pocketable", but it also doesn't get too warm either, which is key.
In general, the Steam Deck offers a fantastic gaming experience and has the added bonus of potentially acting as an additional monitor for your gaming setup.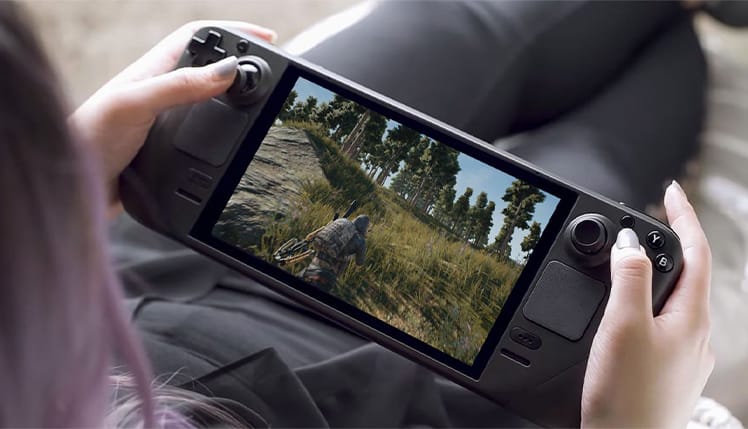 Valve Steam Deck | Credit: Valve Corporation
Price
There are three price points for the different storage options Valve will be offering for the Steam Deck.
The first will be $399 for 64GB, with eMMC. This option includes a carrying case.
The second will be $529 for 256GB, with NVMe SSD. This option includes a carrying case, along with faster storage capabilities and an exclusive Steam Community Profile bundle.
The third option will be $649 for 512GB, with NVMe SSD. This option includes an exclusive carrying case, the fastest storage, an exclusive Steam Community profile bundle, an exclusive virtual keyboard theme, as well as premium anti-glare etched glass. For the anti-glare etched glass alone, this price is already a bargain.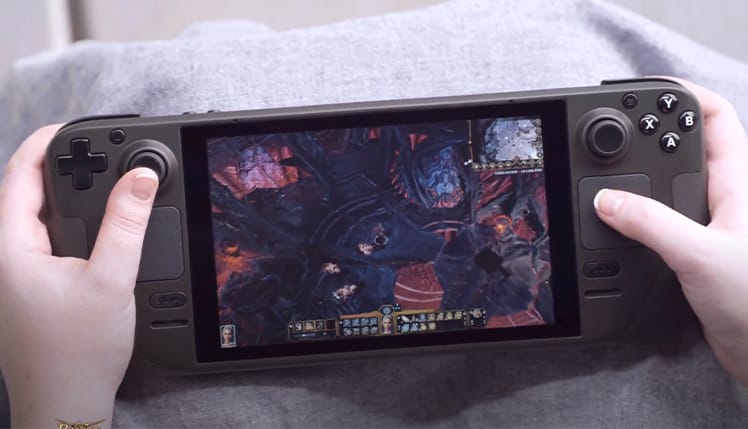 Valve Steam Deck | Credit: Valve Corporation

The Verdict
Whether Valve's Steam Deck is for you comes down to what you're looking for in a gaming setup. It's a great bargain for people without a gaming PC setup, especially considering the price a gaming laptop or a low-end desktop PC build costs. That being said, it might not necessarily be of interest to those who are already comfortable with the PC setup they have. What's yet to be seen is how well the trackpad works with games, and whether Valve will be able to extend the Deck's battery life before launch.
The Pros:
It's a handheld PC with all of your Steam games on it.
You can dock it.
It's a great value for an entry-level PC.
Its grip buttons.
The Cons:
Maximum 8-hour battery life might not be enough.
Valve's hardware has been hit or miss.
The dock is sold separately.
A decent amount of storage space is pretty pricey.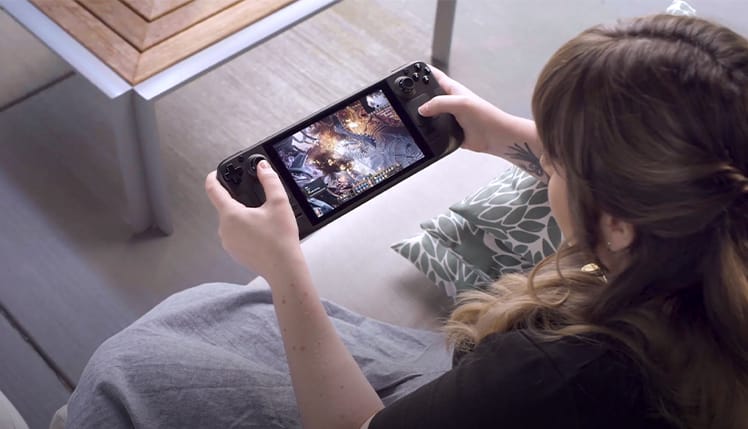 Valve Steam Deck | Credit: Valve Corporation
TL;DR
It doesn't get much simpler than this: Valve's Steam Deck is a PC with handheld capabilities. It's a great bargain for gamers interested in starting their own PC setup, but might not be of interest for gamers who are happy with the setup they've already got.