About Samsung Odyssey Neo G9
Samsung Odyssey Neo G9 - A Monster of a Monitor
It doesn't get much bigger than this.

Samsung Odyssey Neo G9 | Credit: Samsung

Hello, Neo
In 2020, Samsung launched its Odyssey G9 monitor. It was the first of its kind, pushing the world of gaming gear into a new era with its quantum-technology-enabled image quality and 1000R curvature. The Neo G9 is a step up from the previous Samsung model and is the ultimate gaming monitor for those who want only the best the industry has to offer (and the space to house it).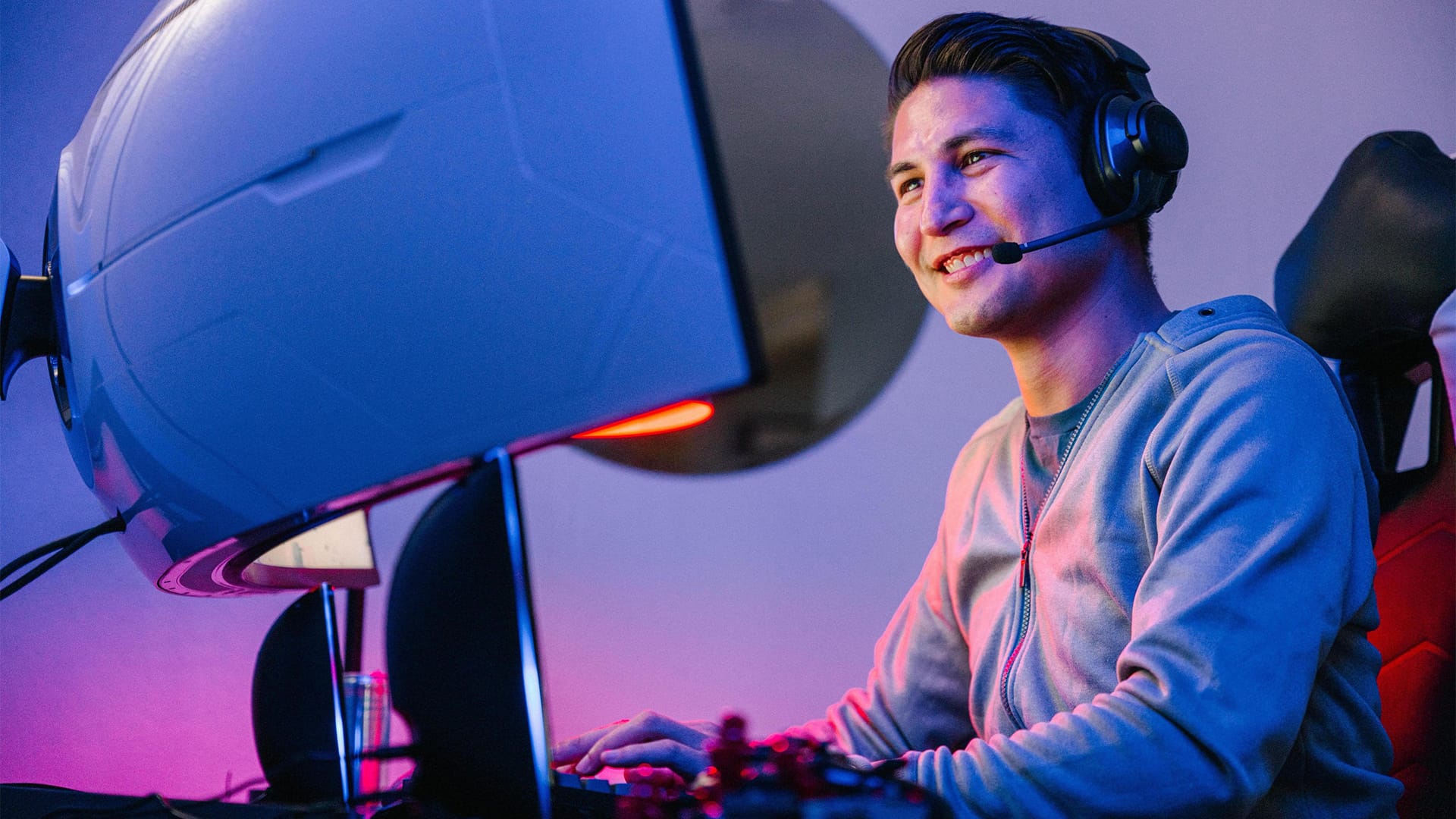 Samsung Odyssey Neo G9 | Credit: Samsung

Hardware & Design
The Samsung Odyssey Neo G9 is massive. It's advisable to have someone else help you set it up, or if you don't have that option, it's best to attach the stand to the monitor before taking it out of the box. You'll need a lot of space in your setup, but luckily wall mounts are an option (and even advised by Samsung).
The Odyssey Neo G9's ports face straight down, making it a bit cumbersome to set up. Additionally, only the DisplayPort supports the maximum refresh rate of 240Hz. However, once you have the monitor securely attached to its stand, its height is easily adjustable, moving and swiveling with ease.
The Samsung Odyssey Neo G9 is massive.
Before you rush into buying this massive beast, you should know that its hardware doesn't include any internal speakers, requiring either external ones or a headset.
Core lighting is included on the back of the monitor, which matches whatever's on-screen. If the monitor is displaying a yellow field of wheat, for example, the lights will turn yellow, washing your room in an immersive glow.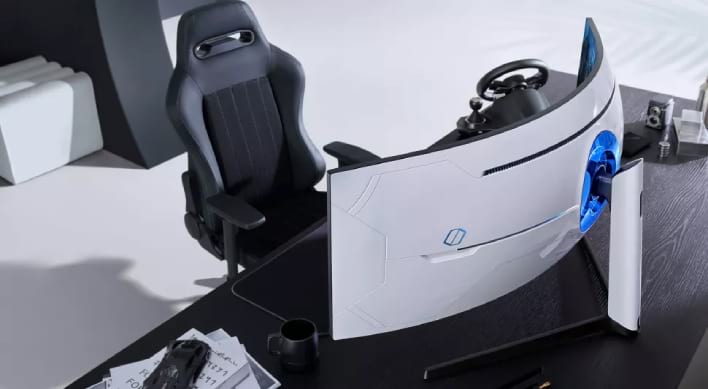 Samsung Odyssey Neo G9 | Credit: Samsung
Features
The Samsung Odyssey Neo G9 has a 32:9 aspect ratio. It's backlit using the same technology used in Samsung's high-end TVs: quantum mini LEDs. This is a step forward from last year's G9 and is the main attracting feature for the Neo. The end result is a stunning display, allowing games to shine at full potential. Colors are rich, and the blacks are deep, with almost no ghosting at all.
The Neo G9 supports HDR, as well as Nvidia G-Sync and AMD FreeSync Pro.
The ultra-wide screen can of course act effectively as two monitors by housing multiple windows. However, if you decide to watch movies or TV shows on it, you'll be met with thick black borders on each side.
Still, what all of these features mean is that Samsung's Odyssey Neo G9 offers the best picture possible, and is nothing less than stunning to behold.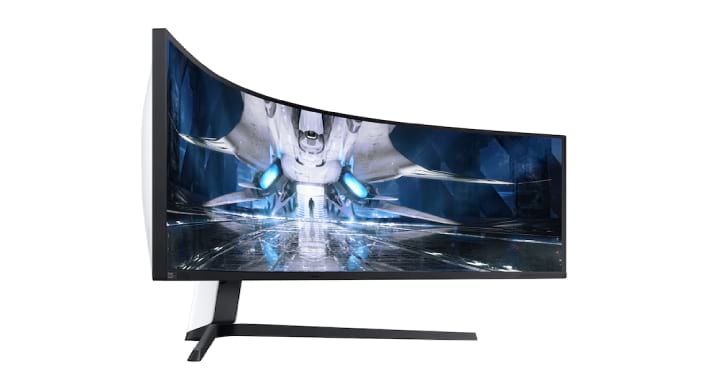 Samsung Odyssey Neo G9 | Credit: Samsung

Key Specifications
This 49" monitor has a tight 1000R curvature, with a resolution of 5120 x 1440 pixels. (This is only 12% less than a full 4k resolution!) It has a whopping 2048 quantum mini LEDs, and more dimming zones than last year's model to help with bloom. Samsung claims a maximum of 2,000 nits of brightness, which is twice as much as last year's, too.
Including the stand, the Neo G9 is 45.3" x 21.1" x 16.5", and weighs in at 32 pounds.
It offers one DisplayPort 1.4, two HDMI 2.1 ports, two USB-A ports, one USB-B port, and one 3.5 mm headphone jack.
It has a 1 millisecond response time and a maximum refresh rate of 240Hz. It also has 100% of the sRGB gamut, and 90% of the DCI-P3 gamut.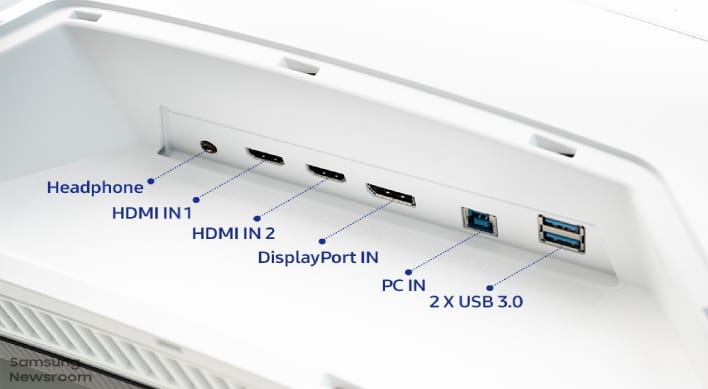 Samsung Odyssey Neo G9 | Credit: Samsung

Performance (UI & UX)
The on-screen menu is pretty straightforward. It allows you quick access to adjust the screen's key settings, jump between modes, enable picture-in-picture if you have more than one input connected, and manage the refresh rate.
There's nice cable management that can be accessed through the stand. The back of the stand also includes a headphone hanger but reaching over to get your headphones is a bit of a task since the screen is so incredibly huge.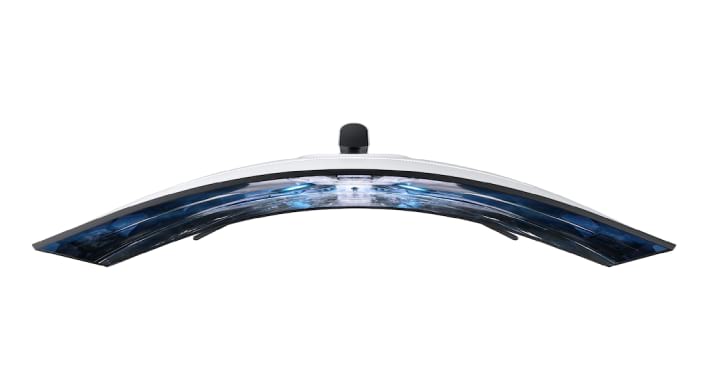 Samsung Odyssey Neo G9 | Credit: Samsung

Price
The Samsung Odyssey Neo G9 is currently on sale for $2,499 USD.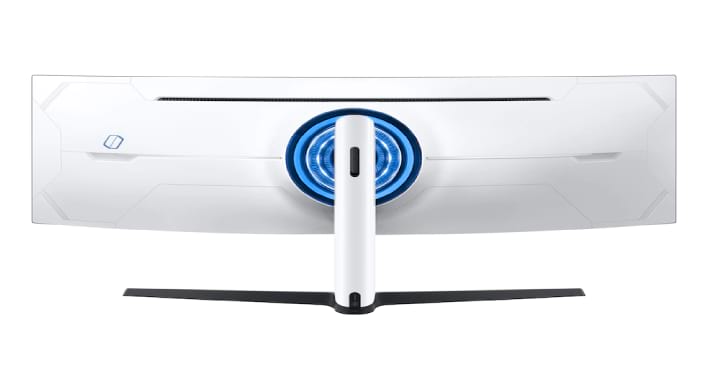 Samsung Odyssey Neo G9 | Credit: Samsung
The Verdict
The Pros:
massive
brilliant display
top-tier tech
incredible immersion
The Cons:
massive
expensive
requires at least a 3080 GPU to support it

TL;DR
The Samsung Odyssey Neo G9 is a top-end monitor for gamers with enough space and money who are looking for the best immersion in the market. While it's not a game-changer in comparison to the last generation, it's still an impressive feat to behold.