About Samsung 980 PRO SSD
Samsung 980 Pro SSD - Worth the Price, or Save a Buck?
Let's Take a Look at Samsung's Flagship Prosumer SSD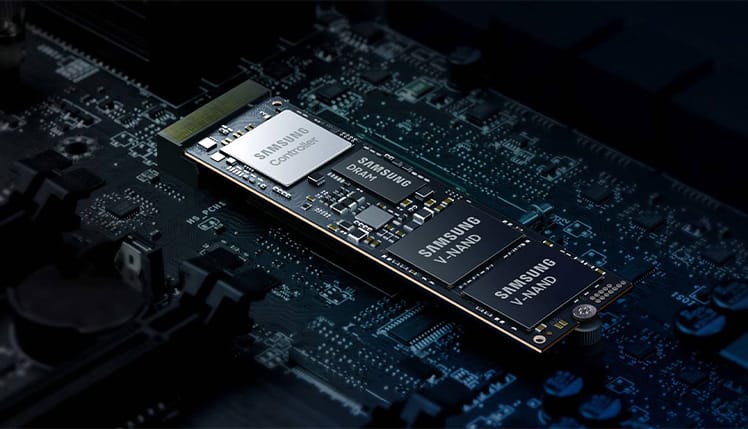 Samsung 980 Pro SSD | Credit: Samsung
Hardware & Design
The Samsung 980 Pro SSD is a standard M.2 2280 SSD and, while visuals are never the most important aspect of an SSD since most of us don't spend much time looking at them, the matte black PCB and black heat sink with large, red "PRO" badging is striking in its design and really screams "high-end". Speaking of that heat sink, it's quite beefy as SSD heat sinks go. For those unfamiliar with modern drives, the very idea of a heat sink on an SSD might seem strange, but it's very important in today's dives because their blistering speeds - both sequential and random - can produce quite a lot of power and heat.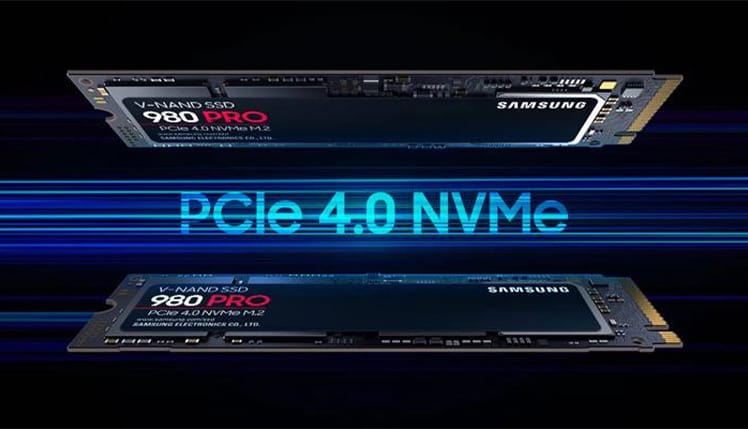 Samsung 980 Pro SSD | Credit: Samsung
Features
The Samsung 980 Pro SSD runs on a PCIe Gen. 4 interface, so it's best used with a platform that supports PCIe Gen. 4 (Intel's 11th generation "Rocket Lake", upcoming 12 generation "Alder Lake", AMD's Ryzen 3000 series, or Ryzen 5000 series are all compatible). While this drive is PCIe Gen. 3 compatible, we wouldn't recommend using this drive in that mode, as all of your speeds and feeds will be cut in half.
Like many other Samsung drives, the 980 Pro features a cooling algorithm made by Samsung in-house that, when paired with the nickel-coated heat spreader on the controller and beefy heat sink, Samsung claims can maintain near-peak performance nearly indefinitely.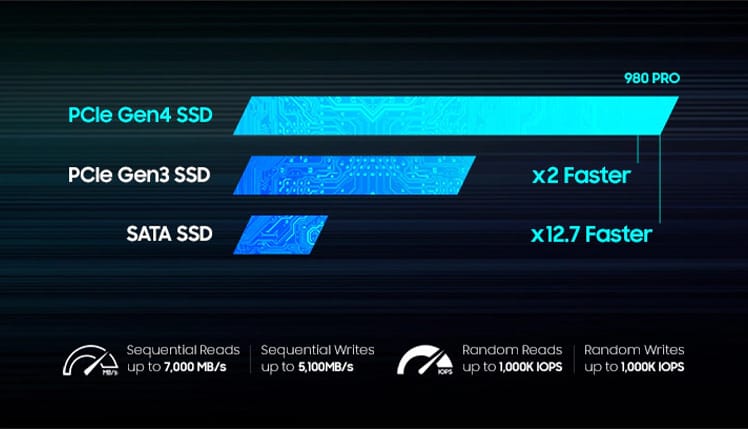 Samsung 980 Pro SSD | Credit: Samsung
Key Specifications
The Samsung 980 Pro SSD is a PCIe Gen. 4, NVME, TLC drive with maximum sequential read speeds of up to 7GB/s and write speeds of up to 5.1GB/s, making file transfers from one drive to another some of the fastest on the market. The random read and write speeds are each up to 1 million IOPs, making your system feel snappy and responsive even when working with large applications and games. The tri-level cell design of the drive allows it to sustain these speeds, as well, which is the main differentiating factor between it and other PCIe Gen 4 drives. The nickel-plated heat sink ensures that the drive will never overheat, even under intense workloads like massive file transfers or SSD caching.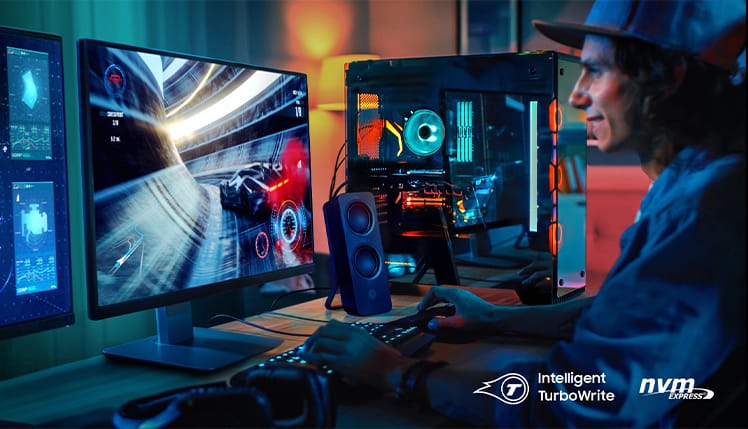 Samsung 980 Pro SSD | Credit: Samsung
Performance
I'll keep this brief: if you want the fastest consumer/prosumer SSD on the market and price is of no concern to you, it doesn't get much better than this.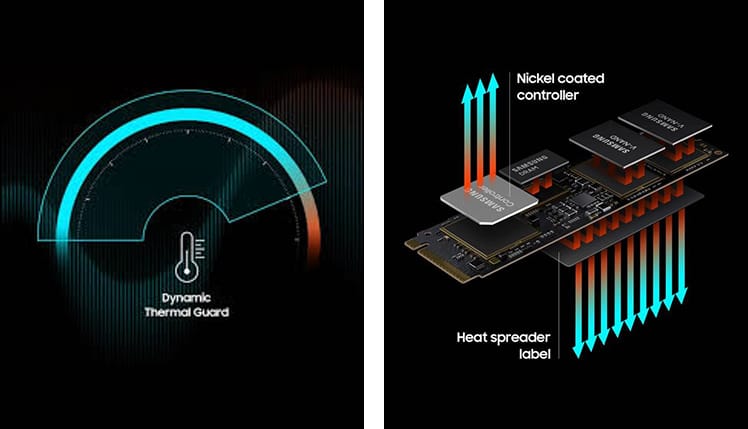 Samsung 980 Pro SSD | Credit: Samsung
Price
This is where things start to get tricky - a bleeding-edge performance often comes with a bleeding-edge price tag, and the Samsung 980 Pro SSD is no exception. This drive comes in four capacities: 250GB for $79.99, 500GB for $109.99, 1TB for $184.99, and 2TB for an eye-watering $379.99. The performance of these drives may be at the top of their class, but their prices cannot be ignored - they're 50 to 90% higher than many other PCIe drives - even Gen 4 drives - on the market.
Samsung 980 Pro SSD | Credit: Samsung
The Verdict
I said it before, and I'll say it again: this is the best consumer/prosumer SSD on the market, hands-down. The performance, both in terms of its peak and its consistency, is top-notch, its thermals are robust, its design, while subjective, is striking, and its reliability is no doubt every bit as high as one would expect from Samsung. That said, it comes at the cost of--well--cost. It's difficult to justify a drive like this in any system that isn't already on the cutting edge of performance, as many of its features will go unused or underappreciated by more casual computer users. But, if you've got the need for a high-end drive and your pockets are full of money, the Samsung 980 Pro is an absolute recommendation.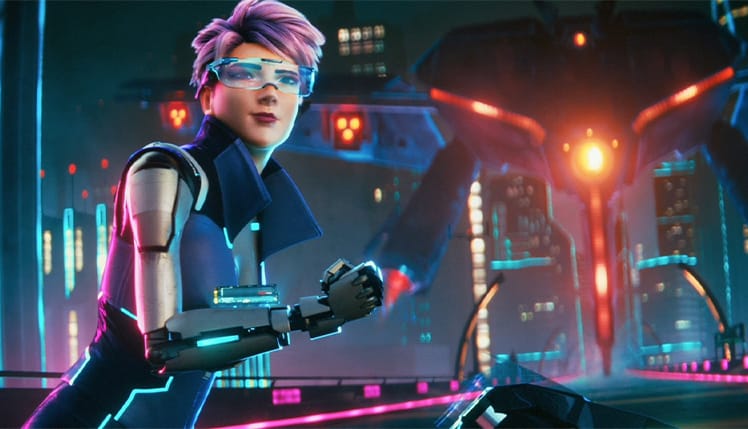 Samsung 980 Pro SSD | Credit: Samsung
Pros
Crazy-fast sequential and random read/write speeds
Consistency in those speeds, even during long workloads
Robust cooling management, with a nickel coating, a thick heatsink, and Samsung's algorithmic secret sauce
World-class reliability
Cons
Some people may not love the huge, red "PRO" badge
Expensive price tag
TL;DR
With a PCIe Gen. 4 interface, consistent read/write speeds of 7GB/5.1GB respectively, a TLC design, excellent thermal management, and striking design, the Samsung 980 Pro SSD is the definition of bleeding edge when it comes to storage drives. Its premium price tag, however, means that casual users should probably steer clear and look elsewhere at the many more affordable options available to them. That said, if you've got a high-end gaming or workstation rig, you're looking to up your storage game, and you've got money burning holes in your pockets, this is the drive you want.