About PlayStation VR
PlayStation VR - Still Reigning Supreme
Perfect for Gamers Looking for a Simple Yet Immersive VR Experience
Surround Yourself in a Virtual Experience
If you've ever dreamed of being transported inside your favorite game or traveling to remarkable destinations from your living room, Playstation VR is perfect for you. With powerful hardware, 360-degree view, and realistic audio, Playstation VR offers stunning entertainment.
Design
The sleek new black and white PlayStation VR provides a comfortable experience with cushioning and adjustable fit. The headband offers pieces that wrap around the back and top of the head, with soft padding. Several blue LEDs positioned around the visor help calculate precision tracking along with the Playstation camera. The headset weighs a light 1.3-pounds, giving the Playstation VR an advantage when worn for long periods of gaming. The actual dimensions for the VR headset are 7.4-inches wide, 7.3-inches high, and 10.9-inches long.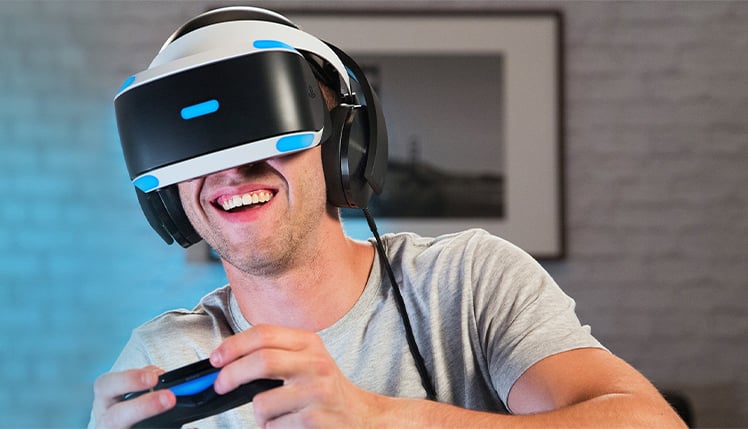 Performance
With a specialized OLED display and a 120-Hz refresh rate, the PlayStation VR offers powerful and affordable performance. PlayStation's VR platform utilizes a very familiar and intuitive tiled interface. You can quickly scroll back and forth in your PS4/PS5 entertainment library. Select from VR content, non-VR titles, streaming applications, and more using a dual shock controller. Using an innovative feature called "Cinematic Mode," you can enjoy non-VR content with the PlayStation VR headset. With your Playstation VR headset equipped, choose any two-dimensional movie or game and experience it on a vast virtual screen. You can easily get all your friends in on the fun as your television will show everyone in the room what you're seeing. In addition, upon setting up your PlayStation VR headset, you'll have access to Playroom VR, which offers six exciting games and several additional VR demos.

Key Specifications
OLED custom display for crisp and colorful visuals helps blur the lines between game and reality.
120-Hz refresh rate provides smooth and natural movement for optimal immersion. The high refresh rate also reduces eye fatigue and allows you to play for extended periods.
3D audio allows you to accurately identify the direction and distance of individual sounds. While in-game, instantly know where the action is and prevent the opposition from sneaking up on you.
PlayStation Camera pinpoints tracking with 3D depth sensors to accurately map the movement of the VR headset.
9 LEDs strategically located around the VR headset communicate tracking information to ensure nothing breaks the immersion.
Outstanding low latency performance of lower than 18-ms means that the action never lags.
Price
The PlayStation VR is available in bundles that include games and accessories like the PlayStation Camera and PlayStation Move controllers. One of the latest bundle deals is the PlayStation VR Marvel's Iron Man VR Bundle that retails for $349.99. However, it may be challenging to find anything at that price due to shortages. You can check your local Best Buy's stock online and attempt to get a unit that way. Otherwise, you'll have to either pay higher prices from online sellers or purchase a refurbished headset from an outlet like Game Stop. While at manufacturer suggested retail prices, the PlayStation VR is a good buy. However, the inflated prices currently found online make it more difficult to recommend.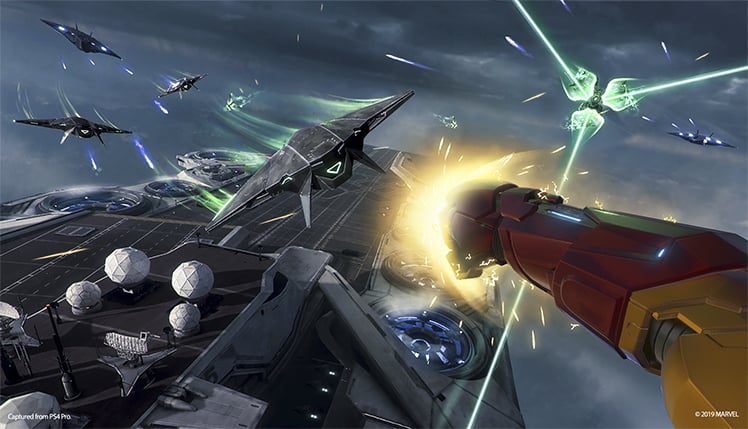 The Verdict
Sony has packed the PlayStation VR with compelling technology that offers an incredibly immersive virtual world to explore. PlayStation VR brings the "wow" factor to the platform, from VR games that place you in the action to stunning environments to explore. Unfortunately, with current product shortages, it could be challenging to get your hands on a headset without paying well over MSRP.
The Pros
Enjoy VR on your PS4/PS5.
Includes a large and regularly increasing library of content.
Solid construction with padding for extra comfort.
Good performance includes a high refresh rate, OLED display, and accurate tracking.
The Cons
Difficult to find at MSRP.
Requires a headset, camera, and PlayStation Move controllers for the full experience.
Isn't wireless.

TL;DR
The PlayStation VR is impressive technology with good performance, but stock issues make it currently challenging to find at MSRP.