About HP OMEN 45L
HP OMEN 45L - Cool, Powerful, and Upgradeable
A Gamer's Perspective on a Perfect Gaming System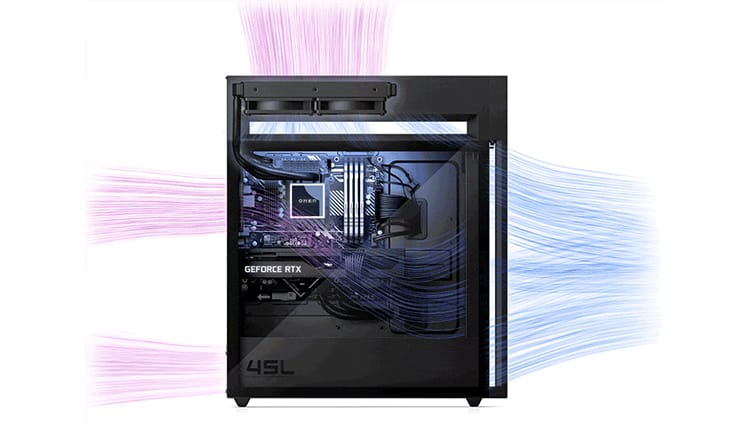 A High-End, Super-Sized Pre-Built Gaming Machine
Being a gamer takes precision. Precision to be quick in thought and coordinated enough to be fast at hand movement. However, it will not matter how fast the gamer is if their system is not up to their speed and capacity to win at whatever game they attempt to conquer.
Here we will discuss several key components highlighted in the HP Omen 45L desktop.
HP OMEN 45L – Design
When it comes to the design of a gaming desktop, not only does it need to maintain a speed with no glitches, but the person playing also needs to feel engaged in the fantasy portrayed on screen. The HP Omen 45L fits the design of pulling a gamer into that type of realm before the gaming even starts. The overall look of this specific desktop is stunning. Some of the appealing parts would be the following:
Tempered glass panels
Full metal framework
4 RGB zones
The HP Omen 45 L's design adds to the PC gaming experience by allowing players to pick their system's complete performance and lighting option. These pieces make up a pleasing aesthetic to the overall system while playing a game. What could be better than that?
Go ahead and synchronize all your HP systems, download the Hub and the more integrated Omen Light Studio, and you will find the options are endless for having a carefree gaming experience.
NOTE: You should ensure all features and newly added features, such as the new light studio, are compatible with your windows system.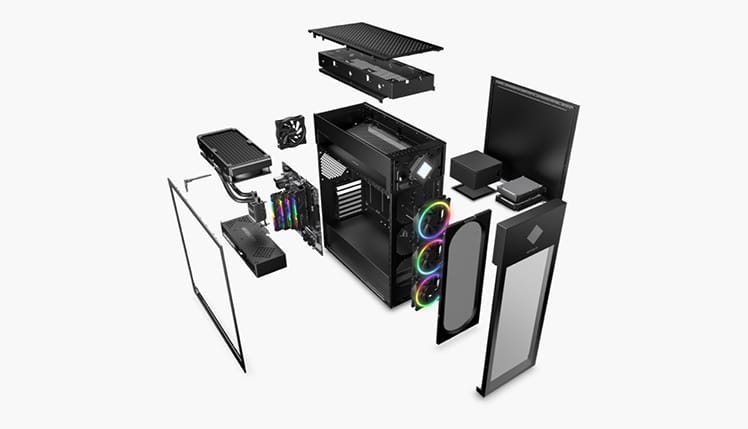 HP OMEN 45L – Performance
As mentioned initially, gamers want precision performance with no distractions from freezes, glitches, or overheating. By current reviews, this system is top-notch. It supports an Intel Cryo Cooling Gen2 Technology for cooling capacity, which helps with the other issues that could slow down and frustrate a competitive player. Furthermore, HP has made it simple with this new designer desktop to monitor all performance like temperature checks of the CPU, GPU, and memory. You will discover the three optimized modes, which will make it easy for you to play at your own pace.
These three modes are:
Comfortable – reduces noise and temperature.
Default – for casual play or routine functions
Performance – When you want to enjoy beast mode.
HP OMEN 45L – Key Specifications
Continuing, we now have discussed some of the eye-catching outer looks of the HP Omen 45L, such as the upgraded light studio. Besides some key features, like cooling capacity, making it necessary for an avid gamer to game for hours without worries, the player can choose from functions to make their gaming experience the perfect playtime for them. Nevertheless, some key specs will be worth mentioning if you are the type of person who keeps up-to-date on all the systems and their upgrades. For the HP Omen 45L, the critical things included are:
Up to Intel® Core™ i9-12900KF Processor
Up To NVIDIA® GeForce RTX™ 3090
Up to HyperX 64 GB DDR4-3733 MHz XMP RGB Heatsink RAM
OMEN CRYO CHAMBER
HP OMEN 45L – Price
As a consumer reading this description might infer, the price for this new desktop may be expensive for someone who works and must maintain a budget. However, if you are inclined to splurge occasionally, the HP Omen 45L would be worth the price tag. After considering all the performance enhancements and design features and starting at $1999.99 at most retailers, the cost is reasonable. And like all computer systems, the buyer can customize it to their liking. The better place to shop for this desktop would be at a Hp store. Even so, you can find it at the more typical electronic sellers such as Best Buy.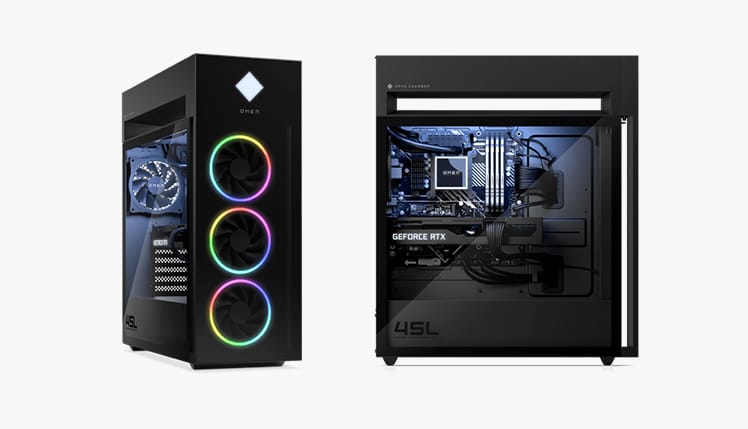 The Verdict
The only question left is, what do you think about the HP Omen 45L? Do you feel that this written description was sufficient? For some, the description of this desktop will be convincing enough to purchase one. For others, they may need to do a little more research. And that is fine. You should always go with your gut—especially if you are a serious gamer. However, I will end this article with a list of Pros and Cons I found from consumer reviews. I hope it helps.
The Pros:
Excellent CPU cooling solution
No tools needed to access
Upgradable with off-the-shelf parts
Excellent gaming performance
Maintains minimal noise
Extra hard drive bays
Customizable lighting
The Cons:
Big price tag
It does not offer DDR5 memory
Not enough USB ports
Final Analysis
TL;DR
The HP Omen 45L has high-quality features such as an excellent cooling system and peak performance. The Omen Hub is easy to maneuver, and the design is aesthetically pleasing.