About G560 LIGHTSYNC
G560 LIGHTSYNC – Immersive, High-Quality Sound
Full-scale Gaming Audio That Takes It To The Next Level
An Inside Look at the G560 LIGHSYNC RGB Gaming Speakers
A set of high-performance speakers helps create an atmosphere that enriches the quality of a gaming experience. Logitech G's G560 LIGHTSYNC RGB Gaming Speakers provide immersive, deep and rich sound quality that makes gamers feel they are in the middle of all the action and excitement they are playing through.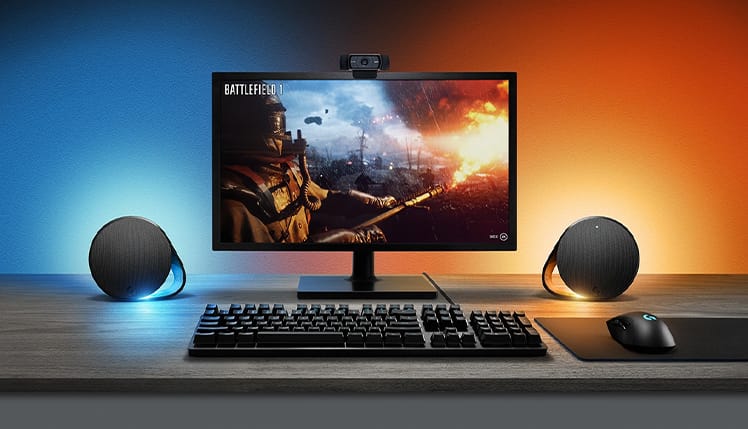 Design
At first glance, this set of gaming speakers features a substantial amount of components; however, the G560 centers around three primary pieces. These include the central, rectangular subwoofer and two circular satellite speakers that individuals can place anywhere they want in their gaming setup. Each of the two circular speakers features colorful and vibrant LED lights that help add extra flare to a gaming area. The monochromatic black color naturally blends in well with virtually any setting.
The G560 speaker has a lot of wires, but setting the speakers up is relatively simple. The right satellite speaker features all the manual control buttons to adjust volume and light brightness, pair with Bluetooth and shut the speakers off. The speakers are on the large side, so they may not be suitable for smaller gaming setups. The kit also supplies a USB cable that hooks the subwoofer to the gaming PC.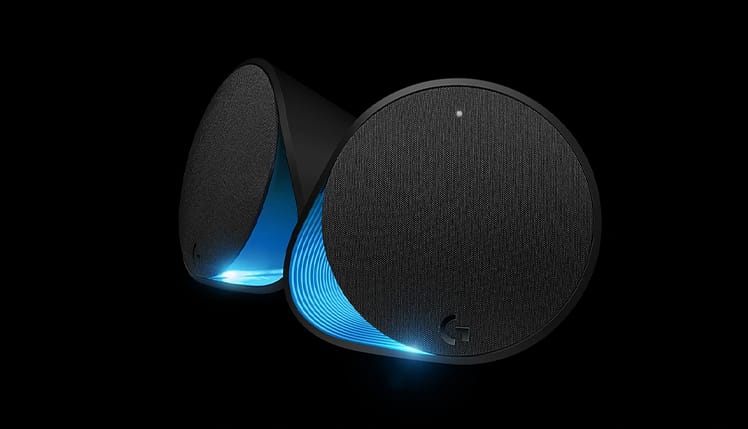 Performance
The most important aspect of high-level gaming speakers is their sound quality. The Logitech G560 LIGHTSYNC RGB Gaming Speakers produce an excellent sound that fully immerses gamers into the audio experience of their gaming environment. With DTS 7.1 surround sound or standard stereo options, these speakers deliver character dialogue, rich musical scores and various sound effects with impactful volume and crisp clarity.
The central subwoofer makes the difference with the G560 speakers. The dynamic, forceful bass and audio quality help individuals feel the power of the sounds they are experiencing. This immersive sound extends into music, YouTube videos, shows and movies. Regardless of the type of audio, the Logitech G560 Gaming Speakers produce high-quality and encompassing sound.
There are some potential drawbacks to this high-powered sound. Even at low volumes, the subwoofer can still produce relatively loud audio. Moreover, there isn't any way to turn off the subwoofer completely. As such, these speakers may be too loud for folks who are right next door to a sibling, parent, roommate or child. Individuals can turn the bass down, but doing so also shuts off the bass on the two circular speakers.
The speakers also include Logitech Gaming Software, which is essential for operating them. Gamers will use the software to engage surround sound, manage audio profiles for particular games, adjust equalizer settings and manage the light display on the satellite speakers.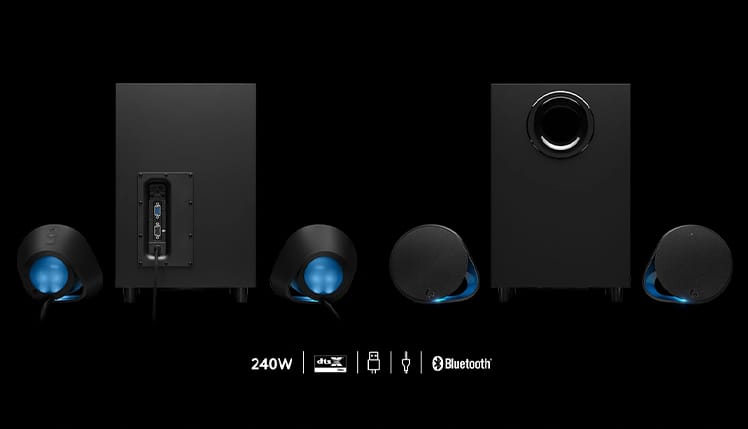 Key Specifications
Two 30W satellite speakers and one 60W subwoofer
The central subwoofer includes one USB port and one headphone jack
Bluetooth Version 4.1 with a 25-meter line of sight Bluetooth range
Supports Windows 10, Windows 8.1, Windows 7 and MacOS X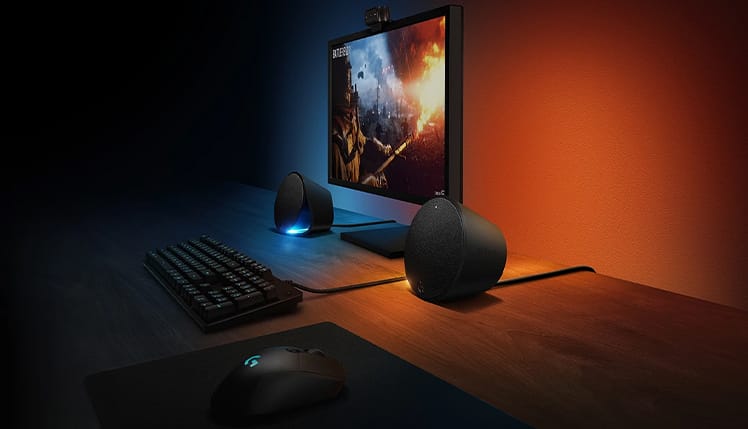 Price
You can find these speakers for $199.99 through various online retailers, including Logitech G, Amazon, and more. With a 1-year limited warranty, this price may seem a bit high at first glance. However, the G560 LIGHSYNC's dynamic sound delivers an experience that is hard to match with other systems. Moreover, it can provide equally immersive experiences with other media, giving it a multifaceted set of applications.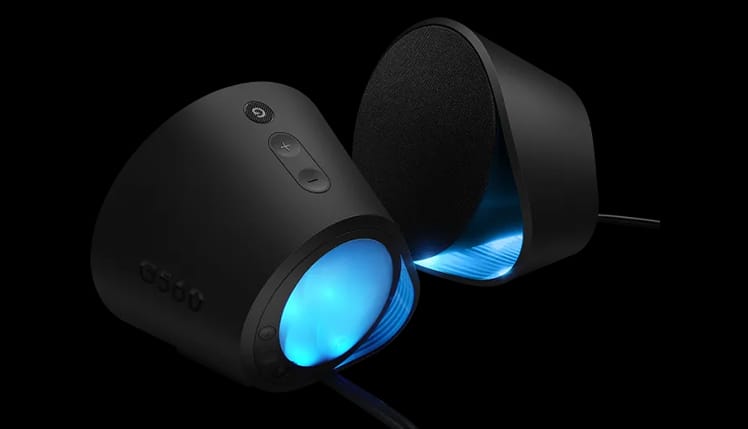 Are the Logitech G560 LIGHTSYNC RGB Gaming Speakers Worth It?
The G560 LIGHTSYNC RGB Gaming Speakers can take a gaming experience to the next level with a deep, full-spectrum sound that people can feel. Though the sound can be a bit overwhelming in shared spaces, users can utilize the available headphone jack. For gamers who want full-fledged engagement with their games' audio experiences, Logitech G's G560 LIGHTSYNC Gaming Speakers won't disappoint.
The Pros
Powerful and crisp sound for games and other media
Long-range Bluetooth Connectivity
RGB lighting for additional visual aesthetics
Dynamic control software
The Cons
Cannot disable the subwoofer for better audio control
Managing the screen sampler function can be hectic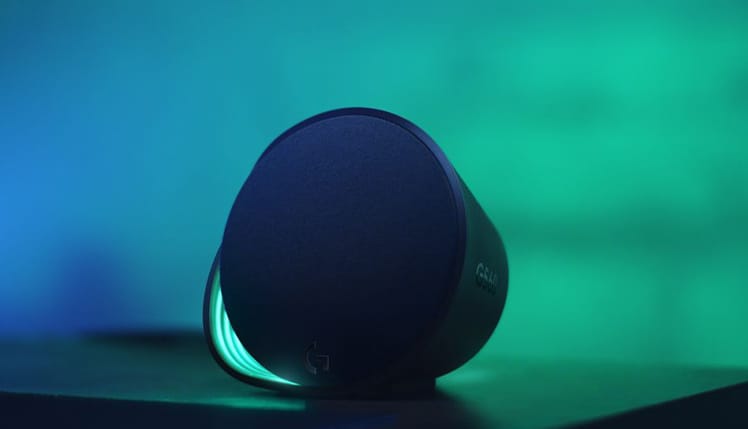 TL;DR
The G560 LIGHTSYNC RGB Gaming Speakers bring robust, clean and powerful sound quality to any game you're playing.