About Dominator Platinum RGB DDR5-6600 C32
Dominator Platinum RGB DDR5-6600 C32 - The Forefront of PC Performance
Fast, Optimized RAM for All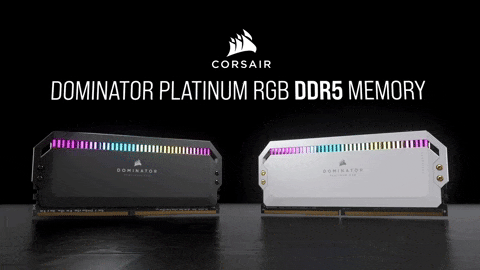 A Big Leap in Memory
With the Dominator Platinum RGB DDR5-6600 C32 RAM, gamers can take advantage of the stunning 6600MHz speed for unbelievable out-of-the-box capabilities. The stylish RGB also offers some striking visuals adding color to any gaming PC build.

Design
Corsair has crafted a remarkable product that will have gamers eagerly anticipating not only the high speed but also the colorful RGB design. While RAM must adhere to the standard rectangular shape to be compatible with modern PC systems, the Dominator Platinum RGB appears thicker with a unique RGB layout. With piano key-like side lighting and square RGB with lighted Dominator lettering on top, this RAM is more flashy than most. With 32GBs, specialized built-in cooling, carefully selected memory chips, custom PCB, and 12 Capellix RGB LEDs, this memory is in a league of its own.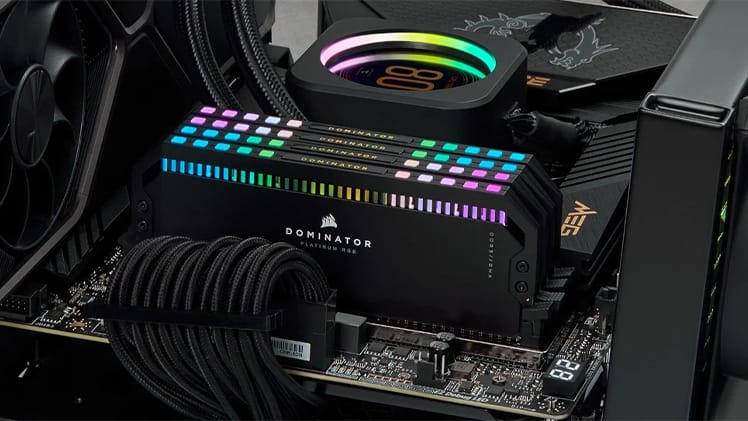 Performance
Due to the meticulous 32GB memory chip design and special high-end PCB, the Dominator Platinum makes a variety of PC tasks faster. While gamers will undoubtedly benefit from the immense 6600MHz speed, they will also notice a boost when creating content, surfing the web with several active tabs, and running multiple programs simultaneously. With RAM this quick, nearly any complex task becomes more responsive with faster results than ever before. Corsair has included a patented cooling system to ensure even and reliable performance at high speeds. Gamers can also utilize iCUE software to sync their RGB lighting with the rest of the system. iCUE also offers several built-in effects and allows gamers to create custom profiles saving time.

Key Specifications
Compatible and specially formulated for the cutting-edge Intel DDR5 motherboards for a wide range of PC builds.
Blistering speeds up to 6600MHz far surpass anything else from previous generations for amazing gaming and multi-tasking performance.
12 Super-bright CAPELLIX RGB LEDs for eye-catching visual flair that adds to any premium build.
The thick and solid design offers a high-end feel that complements even the upper echelon of PC builds.
iCUE software makes configuring the Dominator Platinum easy with options to customize overclocking with XMP integration and RGB profiles.
Price
The Dominator Platinum RGB DDR5-6600 C32 isn't cheap by memory standards but offers more performance than anything from the previous generation. Gamers can purchase the 6600Mhz from Corsair's website for $439.99. While this may be a sticker shock for some, dedicated gamers know the value of squeezing more performance out of their PC rigs. This product may not appeal to those new to PC gaming, but enthusiasts and competitive players should consider incorporating the Dominator Platinum into their existing or new builds.

The Verdict
While costly, Corsair's new 6600MHz Dominator Platinum RAM provides speeds never before seen in the PC world. Gamers will notice enhanced performance in-game, as will content creators and power users. For top-of-line PC builds, this new RAM is the go-to for advanced speed.

The Pros
6600MHz speed
CAPELLIX RGB LEDs
Premium and solid design
iCUE software for XMP overclock integration and RGB lighting effects
The Cons
Not compatible with every system
High price tag may discourage some buyers
TL;DR
Blazing fast 6600MHz 32GB RAM from Corsair comes with impressive performance boosts and lighting at a high retail price.