About Aperture Desk Job
Aperture Desk Job - Better Than Any Desk Job You Ever Had!
A Short, Action-Packed Tutorial of the Steam Deck Gaming Device
Valve's Short New Installment in the Portal Universe
Developed and published by popular video game developer Valve, Aperture Desk Job is the newest installment in the Portal universe. The short, free-to-play game was created to be played on the Steam Deck, Valve's new handheld gaming device. However, if you don't have a Steam Deck, Aperture Desk Job is playable on PC as well, provided you have a gamepad or controller for it.
Aperture Desk Job falls into the genre of simulators, but it's pretty different from the typical simulation game. As the game title suggests, you spend most of the game in one place, and its primary purpose is to guide players through the ins and outs of the Steam Deck handheld device. Whether or not you have a Steam Deck or intend to get one soon, though, Aperture Desk Job offers a unique, entertaining gaming experience that won't take up too much of your time.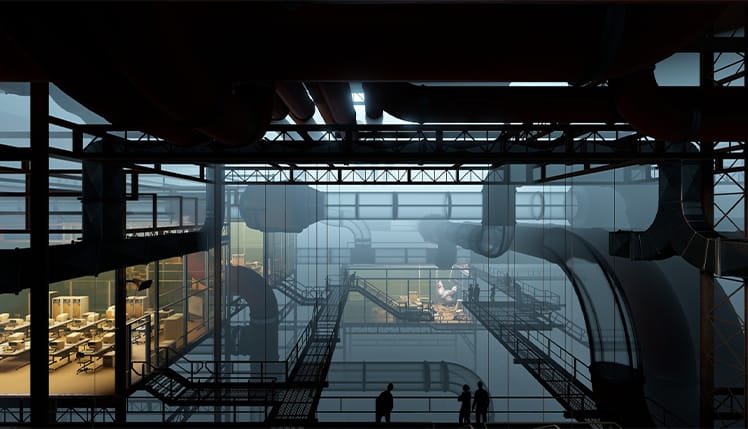 A Desk Job Has Never Been So Fun
The concept of Aperture Desk Job is exactly what the name of the game implies. You take on the role of a new employee-in-training at the Aperture Science company headquarters. Although your character may have aspirations of rising to a high position, you're currently about as low on the corporate totem pole as humanly possible.
You play as an entry-level nobody on their first day at work — your heart full of hope and your legs full of dreams, eager to climb that corporate ladder. But life's got other plans, and they all involve chairs.
Your character has the dirty job of stress-testing toilets. Fortunately, your training experience will end up being a whole lot more interesting than that. The other main character you encounter is an affable personality core named Grady, who arrives to guide you through your new duties and show you the ropes of the facility.
As you'd probably expect, all sorts of hijinks begin to ensue once your training gets going. You start the game simply sitting behind your desk and testing one toilet after another on a conveyor belt, but as the linear game progresses, you'll find yourself in several outlandish scenarios. Before you know it, you'll have destroyed the Aperture facility, gone to prison, and barraged an assembly line of household appliances with machinegun fire—all, of course, without leaving your desk.
Concept Rating: 3/5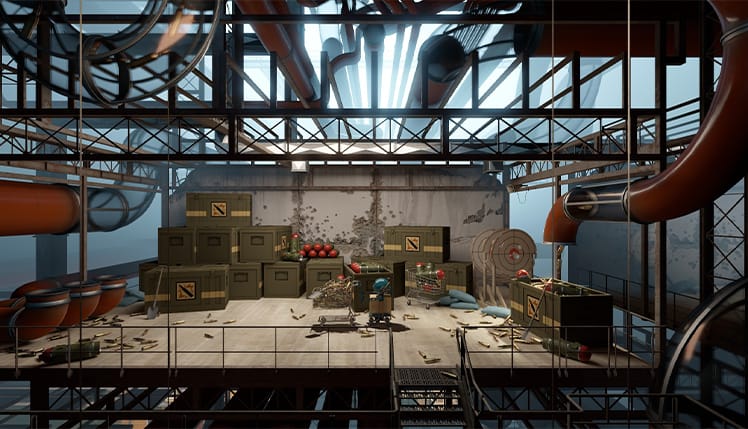 Dynamic, Realistic Animation
Apparently, with all of the time that Valve saved by keeping Aperture Desk Job so short, they worked tirelessly on its graphics. The visuals of the game, which feature tons of fluid movement and a constantly changing setting, look smooth and crisp.
Although only a small portion of the game plays as a first-person shooter, the gunfire animations are neat and satisfying. Said gunfire, as well as the rest of the game's events, brings with it loud, immersive sound effects. Although Aperture Desk Job's length paints it as more of a demo than a complete release, the quality of its graphics and audio tell a different story.
In addition to the animation looking clean and polished, the game's various settings just look flat-out good. One section of the story in particular, in which your desk sits in an abandoned high-rise office, features a beautifully tinted sunset flooding in through the windows. It looks more like a scene you'd see in a feature film than in a 30-minute simulation game.
Graphics & Audio Rating: 5/5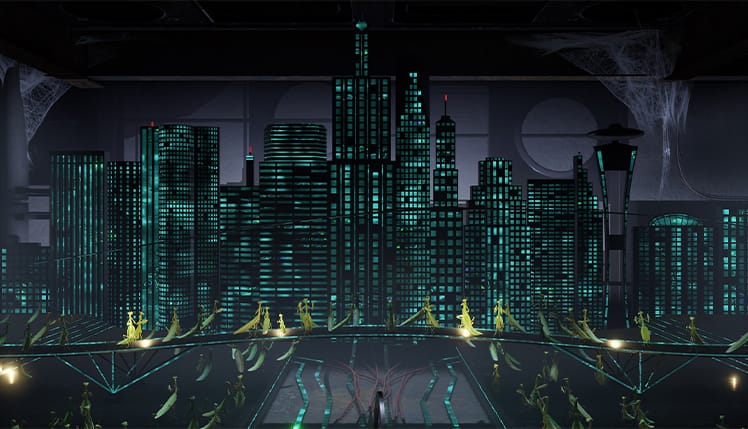 Take a Joyride Through This Playable Short
Unlike most video games, in which there are several possible outcomes based on your choices and actions, Aperture Desk Job can only play out in one manner. The game is what's known as a playable short, and in some ways, you're more along for the ride than you are in control of what's happening. However, that doesn't mean it isn't an enjoyable ride.
Similarities to Portal
As mentioned above, the game takes place in the Portal universe. If you're familiar with the Portal games, you'll notice a few similarities. The movement and visuals are very similar, as is the first-person perspective.
The most notable similarity to the Portal franchise, though, is the presence of the personality core, Grady. If you've never had the pleasure of playing Portal or Portal 2, personality cores are flying AI machines with the ability to experience emotions and display unique personalities. There are several different types of these cores, and they play a prominent role in the Portal games as your constant companions.
In Aperture Desk Job, Grady serves as your guide, your comic relief, and the catalyst for the crazy events that take place around you. His boisterous personality and irreverence are a big part of what makes the game an entertaining playthrough.
Learning Your Controls Through Chaos
Since Aperture Desk Job's primary purpose is to acquaint players with the Steam Deck, you'll constantly be given excuses to experiment with the different controller functions. Throughout all of the insanity that your character (and your desk) moves through, you'll regularly need to press buttons, pull triggers, tilt controls, and even speak into your mic to progress the gameplay.
Aperture Desk Job reimagines the been-there-done-that genre of walking simulators and puts them in the lightning-spanked, endorphin-gorged world of sitting still behind things.
Plenty of Fast-Paced Excitement
If you find yourself bored during Aperture Desk Job, there may be something wrong with you. Although all of the gameplay takes place behind your desk, you'll find that loud, exciting action is being thrown in your face frequently. Whether it's a toilet shooting rockets, a huge facility collapsing around you, or a massive bust of someone's head crashing through the floor, there's never a dull moment... well, except for the brief period that your character spends sitting in prison.
Gameplay Rating: 4/5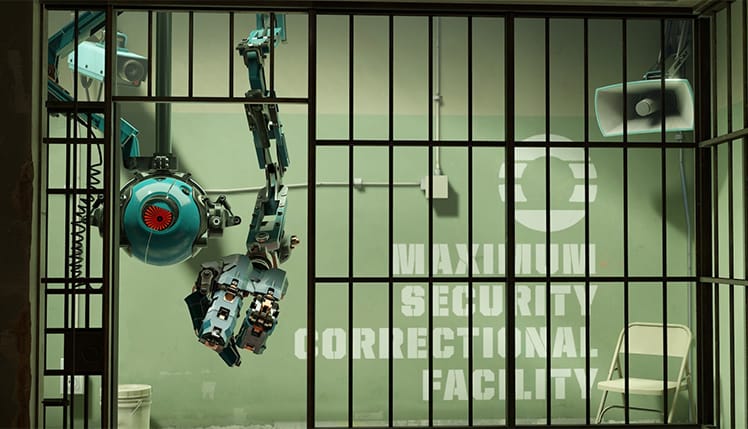 Applying for This Special Desk Job
Aperture Desk Job launched on March 1st, 2022, and is entirely free to play. Keep in mind that although the game is technically a full release set in the expanded Portal universe, it isn't a sequel to Portal. It is, however, a half-hour of interactive fun that you don't need to pay for!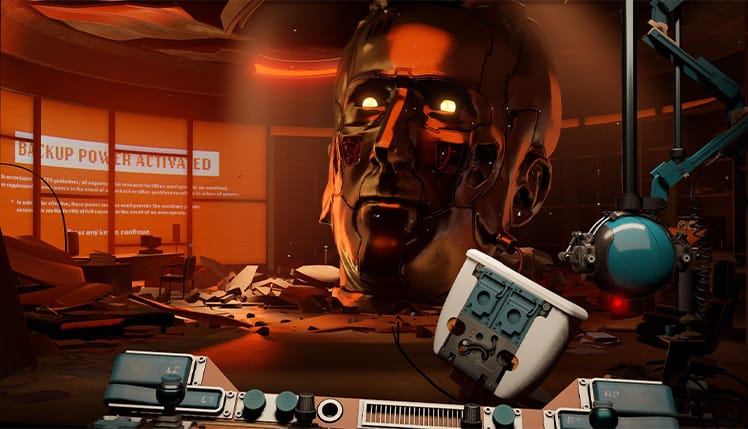 Why Not Give Aperture Desk Job a Try?
Whenever a video game is free-to-play and takes 30 minutes to an hour of your time, you truly have nothing to lose by giving it a shot. When that game is as fun and unique as Aperture Desk Job, though, you'd be straight-up silly not to.
As long as you don't expect any deep storytelling, complex game modes, or powerful character arcs, you should be satisfied with what Aperture Desk Job offers. The game looks fantastic, it includes lots of humour, and it throws in quite a bit of exciting action. What's not to like?
All of that said, Aperture Desk Job isn't the type of game you'll be coming back to several times over. You'll definitely get a kick out of it the first time through, but there's not a ton of replay value there.
Replay Value Rating: 2/5
The Pros
Smooth, sharp-looking animation.
Loud, immersive sound effects.
Grady the personality core is friendly and hilarious.
The Cons
You'll wish it was a lot longer.
Requiring a Steam Deck or gamepad makes it somewhat restrictive.
It won't quite quench your thirst for Portal 3.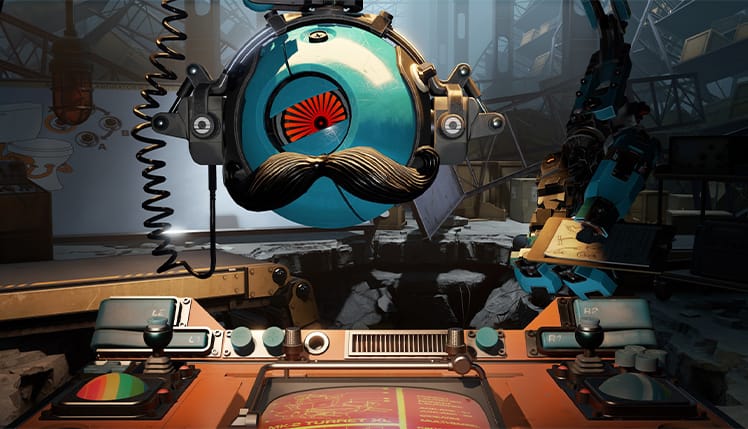 TL;DR
For a game so short, Aperture Desk Job packs in lots of exciting action, smooth graphics, and humour.